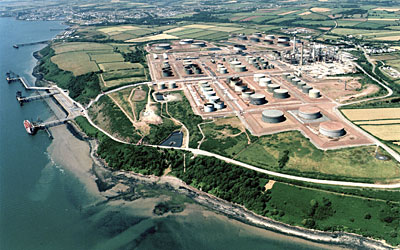 SemGroup is purchasing Petroplus Tankstorage Milford Haven, owner of the largest storage and terminal facility in the United Kingdom. The Milford Haven terminal has in excess of 9.4 million barrels of storage capacity and more than 80 tanks. The terminal stores crude oil, gasoline blendstocks and jet fuel.
SemGroup CEO Tom Kivisto described the acquisition's strategic value to SemGroup. "The terminal is close to key UK refineries and is utilized as intermediate storage for supplies produced from them. Historically, much of the crude oil and gasoline stored there is shipped to the U.S. east coast. With U.S. demand continuing to grow, Milford Haven will need to be expanded," Kivisto said.
In addition to being the largest independent terminal and storage facility in the United Kingdom, the Milford Haven site has road and rail facilities as well as two marine berths capable of handling ships up to one million barrels cargo capacity. The terminal's storage tanks range in size from 50,000 barrels to 650,000 barrels shell capacity.
SemGroup provides the means to move products from the wellhead to the wholesale marketplace.
Petroplus owns refineries in Belgium, Switzerland, and the United Kingdom.