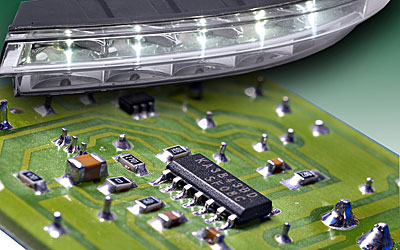 Fairchild Semiconductor's Global Power Resource Design Center recently completed designs enabling automobile manufacturers to meet proposed daytime headlight regulations with a new ballast design utilizing SEPIC topology. This new design is ideal for low voltage DC/DC applications, such as automobile headlights. Fairchild's ballast designs offer EMI and efficiency, and are highly variable in terms of input and output voltage as well as output power.
"Fairchild's Global Power Resource design center also developed a design, using the SEPIC topology, to drive up to seven LEDs with 30V max output and 350mA constant current as well as up to 36 low power LEDs with 120V max output with 70mA constant current output," said Fairchild's Ole-Peter Brusdal.
Today's automobiles increasingly use high brightness LEDs of up to 1W of power. However daytime headlights typically require five to seven LEDs to comply with the expected new standard. Ideally, these LEDs should be connected in a series to ensure identical current and therefore the brightness of each device. SEPIC topology can transform voltages up as well as down, easily meeting these requirements.
While SEPIC topology is ideal for DC/DC applications, it is also an excellent choice in non-isolated low power AC/DC applications, such as power supplies for industrial controls and white goods. This topology offers cost effective solutions, achieving an efficiency of about 80%.
"Fairchild is fortunate to have the caliber of talent in Dr. Michael Weirich and his team to develop innovative designs using SEPIC topology in a expansive range of low voltage applications, such as daytime running headlights, DC/DC converters and off-line AC/DC solutions," continued Brusdal.
The Global Power Resource center has the expertise and equipment to provide comprehensive power design solutions for industrial, consumer, and automotive electronic applications. With significant power design experience, the design and application lab is staffed by qualified systems, applications and component engineers. Able to turn around designs in as little as two weeks, the center provides customers with fully engineered solutions.
Fairchild Semiconductor supplies high performance power products to electronic applications.