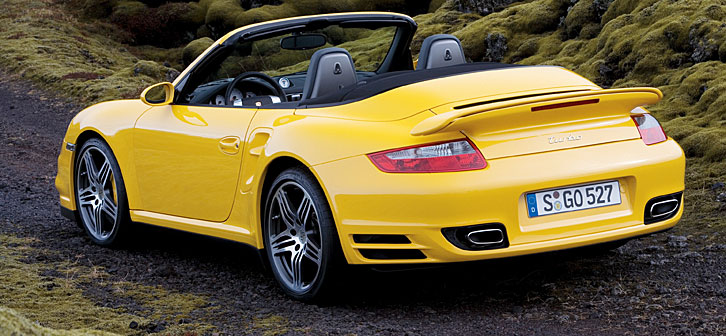 In September, sports car drivers who love extreme high performance and the feeling of sun and wind will have the best of both worlds when Porsche unleashes its ultimate open-air 911 sports car: the new 2008 Porsche 911 Turbo Cabriolet.
Continuing the company's twenty-year tradition of pairing a classic soft top with extreme Porsche 911 Turbo performance, this 2+2 seater can reach speeds of nearly 200 mph and accelerate from a stop to 60 mph in just 3.5 seconds. Starting at $136,500, the all-wheel-drive 911 Turbo Cabriolet is available with the same 3.6-liter, six-cylinder, twin-turbocharged boxer engine that delivers 480 horsepower in the 911 Turbo Coupe
The 911 Turbo Cabriolet uses a light, three-layer soft top that can be opened and closed at speeds of up to thirty miles an hour in just twenty seconds. The car includes hand-stitched leather, a high-performance Bose Surround Sound System stereo with settings ideal for top down driving, a wind buffeting system, Bi-Xenon headlights, 19-inch forged wheels with two-tone appearance and an entertainment and navigation system that seamlessly combines audio, navigation, and timing features.
The car features a race-bred braking system, an automatic rear spoiler for high-speed grip in the rear, and an array of directional and traction control systems.