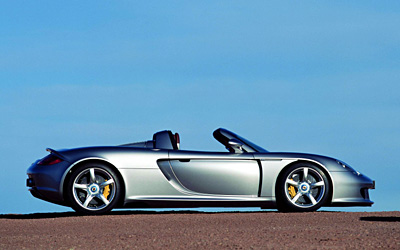 The Porsche Carrera GT was awarded "Best Dream Car 2004" in Road and Track Magazine's inaugural Readers' Choice Award. The survey was conducted entirely online, polling automotive consumers and enabling them to voice their opinion for "Best Car 2004" and "Best Dream Car 2004." These awards will be featured in the April issue of Road & Track, available at newsstands on March 9.
To be eligible for the "Best Dream Car 2004" award, cars must be an enthusiast car with above-average performance and handling, pleasing design and space and fuel efficiency. It must also be an all-new model or a model with significant upgrades and have a 2004 model year designation.
The Carrera GT, which beat six other vehicles for the award, represents the ultimate in Porsche's automotive engineering expertise. Incorporating 70 patents in its design and construction, the 605 hp (SAE) super car has a V10 engine, a monocoque chassis and the first use of a carbon fiber clutch in a production car. The Carrera GT accelerates from 0-62 mph (100 km/h) in 3.9 seconds, reaches 100 mph (160 km/h) in less than seven seconds and can achieve a top test-track speed of 205 mph (330 km/h). With only 1500 vehicles planned for production worldwide and a MSRP of $440,000, the Carrera GT is truly a dream car.
This is the second American media award for the Carrera GT, the first one being Popular Mechanics "Best of What's New" in 2003 for its advanced technology and development of its chassis.