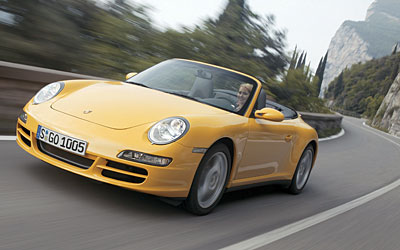 Porsche's new 911 Carrera 4 and 911 Carrera 4S Cabriolet sports cars are all-wheel drive versions of its popular 911 open-top models. The new sports cars have a more dynamic and muscular with wider rear tires and rear bodywork that is 1-3/4 inches wider than the two-wheel drive 911 Carrera and 911 Carrera S Cabriolets.
Both new all-wheel drive 911 Cabriolet models are equipped with an electronic soft top that opens or closes in just twenty seconds for open-air driving pleasure and convenience and can be deployed or retracted with the car moving at up to 30 mph. At just a little more than 92 lbs., the convertible top helps provide a lower center of gravity and a higher degree of lateral dynamics.
For optimum occupant safety, the 911 Carrera 4 and 911 Carrera 4S Cabriolets are equipped with the Porsche Side Impact Protection (POSIP) system that features separate head and thorax airbags for both driver and front seat passenger. Also standard are two full-size frontal airbags and three-point seat belt latch tensioners and belt force limiters for the front seats. Rollover safety features include two ultra-strong steel tubes in the A-pillars and two supplemental safety bars located behind the rear seats that automatically deploy in the event of a rollover.
The 2006 Porsche 911 Carrera 4 Cabriolet is powered by the proven 3.6-liter, flat-six cylinder 325 hp (SAE) engine that propels the car from 0 to 60 mph in 5.1 seconds and to a top test track speed of 174 mph. The 911 Carrera 4S Cabriolet is equipped with a larger 3.8-liter power plant that develops 355 hp (SAE) and accelerates the car from 0 to 60 mph in 4.7 seconds and to a top test track speed of 179 mph.
Like their all-wheel drive 911 coupe brothers, the Porsche Stability Management (PSM) system on these new Cabriolet models has two new functions to enhance braking. First, if PSM detects that the driver has abruptly taken his or her foot off the accelerator, the system pre-fills the brake calipers to reduce the gap between the pads and the rotors, which helps shorten stopping distances. The second system features a hydraulic pump that works as a brake assist, applying full braking power during a hard stop even if the driver has depressed the brake pedal quickly but without full force.
As with the previous version, the 911 Carrera 4 Cabriolet's all-wheel drive system has a multi-disk viscous coupling that transfers between 5 and 40 percent of the driving force permanently to the front wheels. This feature provides excellent handling in curves, straight-line stability at high speeds, and improved traction on slippery roads.
To further enhance handling, for the first time the 911 Carrera 4 Cabriolet models are available with the new Porsche Active Suspension Management (PASM) system. Standard on the 911 Carrera 4S and an option on the 911 Carrera 4, PASM allows the driver to select between the comfort of a Grand Touring car and the track-ready precision of a genuine high performance sports car at the touch of a button.
The 2006 Porsche 911 Carrera 4 Cabriolet and 911 Carrera 4S Cabriolet will be introduced in North America in November 2005. The 911 Carrera 4 Cabriolet U.S. and Canadian prices are $87,100, while the 911 Carrera 4S Cabriolet will list for $97,100.