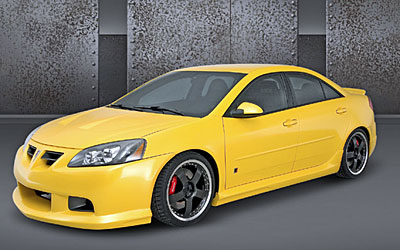 At SEMA, Roush received the best new GM exterior award from General Motors for their dramatically styled Roush Signature Edition Pontiac G6 sedan.
Director of Design of Specialty Vehicles Kip Wasenko said GM is proud of the new Pontiac G-6 design, noting that "The Roush enhancements demonstrate the potential of personalization that an owner could apply to the new clean design."
"This was a fantastic project," said Paul White of Roush. "The G6 is a very well-designed product that lends itself beautifully to design and performance enhancements. We enjoyed an excellent working relationship with General Motors' design and marketing groups, and our seamless access to Roush's design, engineering, and manufacturing resources allowed us to develop and apply an extensive modification package in record time."
White said that the project "gave us an excellent opportunity to showcase Roush's full-service capabilities, and the G6 is our kind of car -- bold, nimble, with great lines. Our modification package was designed to enhance those attributes and generate enthusiasm for a derivative package."
Roush used their engineering, design, modeling, prototyping, and manufacturing services to take this project from the sketchpad to the showroom floor at SEMA, with much of the work done in Roush's Livonia Design Studio.
Roush design engineers produced a dramatic appearance package that included a new hood, front and rear fascias, side rocker panels, rear spoiler, forged 19-inch wheels, exhaust tips, modified headlamps, Sparco seating, and Autometer gauges. The Roush Performance package includes an AEM Cold Air Induction Kit, Brembo brakes, DC Sports strut tower brace, Eibach spring lowering kit, and a GM performance exhaust. Wrapped in Merles Opus Orange Yellow paint with distinctive Roush badging, the Roush Edition G6 closes the gap between road car and road racer.
The program illustrates Roush's ability to effectively partner with OEMs as they embrace the public's growing enthusiasm for derivative vehicles. Roush, with its OEM caliber design studio and state-of-the art manufacturing and painting facilities, is unique among automotive suppliers in its ability to design, develop, and manufacture vehicle components under one roof. The Roush Edition G6 clearly demonstrates how creative design, effective OEM/supplier collaboration, seamless services, and streamlined processes combine to produce award-winning results.