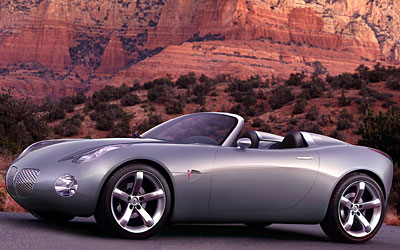 Pontiac tapped the talents of Apprentice contestants to kick off an early order program for the Solstice roadster, available this summer. More than just a simple task on the show, the winning team's work will be the centerpiece of a campaign to sell the first 1000 vehicles when customer ordering begins Friday at Pontiac dealers nationwide.
"When people see the Solstice -- whether it's at an auto show or in an Apprentice task-- it almost always evokes a passionate response," says Mark-Hans Richer of Pontiac.
The first 1000 cars will have serial numbers one through 1000, exclusive badging and a certificate of authenticity. They will be available on a first-come, first-served order basis only during this exclusive early order program at participating Pontiac dealers. Even when the first 1000 Solstices are sold, additional orders can be placed through the normal dealer network.
To gain the opportunity to score one of the first 1000 Solstices, customers completed an online registration form that included a unique identification number. Qualified buyers brought their registration form to participating dealers nationwide at 2:00 p.m. EDT on Friday, April 15. If the first 1000 units were already sold, the customer could choose to be placed on a waiting list, or simply place a regular Solstice order through their dealership. The early order program concluded on Sunday, April 24.
"We're in the middle of a product resurgence at Pontiac, and vehicles like the Solstice and G6 are key components," said Richer. "The confidence we have in these new products allows us to make some bold moves, like our appearance on The Apprentice, which resulted in the development of the Solstice sales brochure customers will receive at dealerships beginning April 15."
Solstice, described on The Apprentice as a "sexy, gorgeous two-seat roadster," combines contemporary sheet metal and a rock-solid chassis with a rev-happy 2.4 liter, 177 horsepower four-cylinder engine that provide exhilarating acceleration, and spirited handling and braking for around $20,000. It is based on the enormously popular concept car of the same name launched at the 2002 North American International Auto Show.