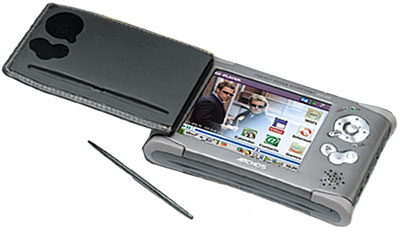 The Pocket Media Assistant from Archos is a new-generation smart portable device that combines full video and audio capabilities with wireless connectivity and a new Linux platform. The 30-gigabyte pocket-sized devices is a versatile portable video recorder/player.
The device helps consumers eliminate multiple portable devices by combining essential entertainment features - video, music, photos and gaming - with Internet access and Personal Information Manager applications in one integrated handheld device.
The PMA400 continues the Archos tradition of letting consumers record video directly from a TV, VCR, cable box or satellite receiver, schedule recordings, record and play music, view photos and play games in multiple ways. It also features several ways to connect to the Internet - wirelessly or via Ethernet - personal information manager applications, an LCD touch screen for fast and easy navigation, a 30 gigabyte Hitachi hard drive, and the ability to act as a USB Host for attaching other mass storage peripherals, such as digital cameras, keyboards, hard drives and other portable devices.
The new Linux platform allows for customized applications to be specifically developed for the PMA400. A complete Software Development Kit will be made available.
"Archos redefined the MP3 player market with its portable video devices that do far more than play music, and is now raising the bar in the emerging PVP space at a time when many companies are just jumping in," said Henri Crohas of Archos.
The Pocket Media Assistant comes with a TV Cradle, remote control, headphones, protective flap, stylus, removable battery, USB 2 cable, power adapter and universal power plugs. Optional Archos accessories include a USB-to-Ethernet cable for fast Internet access through Local Area Networks, replaceable battery, USB Keyboard, styli four pack, AV travel kit, car adaptor, travel case and stand-up travel case for propping up the unit to watch videos on the road.
Archos develops pocket audio video products.