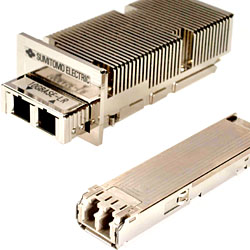 Sumitomo will demonstrate several new XFP and X2 10-Gb/s pluggable transceivers at the OFC 2004 in Los Angeles, February 24-26.
ExceLight will demo the 40-km SXP3101S5 XFP transceiver for SONET OC-192 IR-2 applications. A companion SXP3101EX for 10GBASE-ER is also available. These are the first XFP models on the market that can operate up to 70 degrees C. The modules use Sumitomo's temperature-controlled 1550-nm EML TOSA and PIN-TIA ROSA. They feature a newly developed mini thermoelectric cooler (TEC), which requires only 60% of the power used by a conventional TEC.
Sumitomo is already shipping samples of these 40-km products, as well as 10-km versions, the SXP3101N1 for SONET SR-1 and SXP3101LX for 10GBASE-LR.
Scintera Networks will feature Sumitomo's new X2 transceiver in a multivendor interoperability demonstration showing transmission over 300 meters of legacy multimode fiber. The SDX4101SH X2 transceiver incorporates Scintera's SCN3142 Electronic Dispersion Compensation (EDC) IC. EDC has proven to be drastically lower in cost and power consumption than LX4-based alternatives. The IEEE802.3 committee recently formed a study group aiming to standardize the EDC-based solutions. The X2 transceiver also uses Sumitomo's uncooled 1310-nm FP laser TOSA and PIN-TIA ROSA.
Prototype samples of SDX4101SH are planned to be available during the second quarter of 2004. At the same time, Sumitomo plans to start volume production of the 10-km version of the X2 transceiver -- SDX4101LR for 10GBASE-LR -- that has already been sampled.
Sumitomo will expand its pluggable transceiver line throughout 2004 to satisfy a wide range of application needs.
Sumitomo designs, manufactures and sells optical fiber, cable and components, advanced electronic devices, and automotive parts.
ExceLight (now part of Sumitomo Electric Device Innovations) provides optical components and modules to the telecom, CATV, broadband, and data communications markets. ExceLight offers a comprehensive array of transceivers, transmitters, receivers, lasers, photodiodes and passive components.