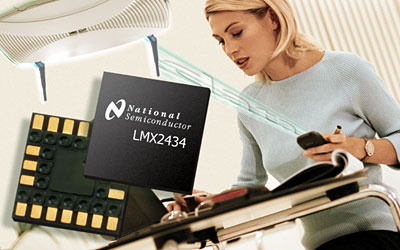 National Semiconductor Corporation today announced its first products for the high frequency phase lock loop (PLL) market, the LMX243x family of PLLatinum PLLs. These high performance PLLs offer the lowest power consumption in the industry for PLLs operating over 3GHz and are well suited for wireless LAN, 5.8GHz cordless phone, mobile handset and base station applications. The first products from the new family are the LMX2430, LMX2433 and LMX2434 PLLs, all available now. Additional members of the family will be introduced throughout the year.
In addition to low power consumption, these new high frequency PLLs feature the lowest normalized phase noise contribution in their class, -219.0 dBc/Hz. Ultra-low phase noise yields increased radio sensitivity, enabling fewer dropped calls, extended base station range and improved voice quality.
"With the introduction of the LMX243x family, National's PLLatinum PLL product offerings span the entire market from the current generation cordless and mobile air interface standards to new high frequency cordless, mobile and WLAN applications," said Michael Sanders, product marketing manager for National's Wireless Group. "With their low power consumption and high performance, the LMX243x PLLs are ideal for both mobile and fixed radio applications, and also complement National's recently introduced PLLatinum LMX25xx PLL+VCO and LMX247x delta-sigma PLL families."
The LMX2434 PLL has an operating frequency of 5.0GHz RF with 2.5GHz IF, eliminating the need for frequency multiplication in 5GHz ISM band applications and reducing the system noise caused by frequency multiplication. The LMX2434 also has a low power supply current of only 7.0 mA, providing longer battery life for mobile radio applications such as 5.8GHz cordless phones.
The LMX2433 PLL has an operating frequency of 3.6GHz RF with 1.7GHz IF and a low power supply current of 5.2 mA. The LMX2430 PLL operates at 3.0GHz RF with 800MHz IF and has ultra-low current consumption of 4.2 mA.
All three of the PLLs feature 2.25V to 2.75V operation, selectable synchronous or asynchronous power down mode, programmable charge pump current levels of 1 or 4 mA, Fastlock technology with integrated timeout counters, digital filtered lock detect output and 1.8V Microwire logic interface. The LMX2434 has a selectable dual modulus prescaler of 16/17 or 32/33, while the LMX2433 and LMX2430 have prescaler options of 8/9 or 16/17. All three PLLs are available in a 20 pin 3.5mm x 3.5mm x 0.6mm ultra thin chip scale package or a standard 20-pin TSSOP package.
National Semiconductor (acquired by Texas Instruments) combines real-world analog and state-of-the-art digital technology.