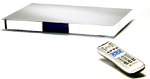 Sigma Designs, a leader in digital media processing for consumer appliances, today announced that its EM8551 media processor will be used in Pinnacle Systems new Pinnacle ShowCenter, a digital media management and playback solution. The EM8551 provides a highly integrated solution for MPEG-4, MPEG-2 and DVD decoding, based on Sigma's award-winning REALmagic Video Streaming Technology.
Pinnacle's ShowCenter provides consumers building a multimedia home network with instant access to digital libraries, without moving the PC into the living room. Consumers will be able to easily access digital video, music and photos from any room of their home by pressing a button on the Pinnacle ShowCenter remote.
"The Pinnacle ShowCenter is a unique combination of easy-to-use multimedia management PC software and a flexible network-connected set-top box based on the Sigma-Design's EM8551 Media Processor," said Joern Lembke, product manager convergence products, Pinnacle Systems B&C Division. "As more technical innovations hit the market, consumers need integration to streamline the features and capabilities required for a fully integrated entertainment experience. The Pinnacle ShowCenter all-in-one solution, powered by Sigma's EM8551 answers this call."
The Pinnacle ShowCenter consists of the EM8551-based set-top box encased within a brushed metal housing. The dedicated Pinnacle ShowCenter remote control and the Pinnacle ShowCenter Multimedia Management PC application are also included. The Pinnacle ShowCenter STB features a user-friendly, powerful graphical interface for the TV and comes with a network cable for connection to a PC. The integrated PCMCIA slot can be used for an optional wireless connection to the PC.
"Enthusiasts in the entertainment industry lead the trend for consumer entertainment solutions," said Ken Lowe, vice president of strategic marketing at Sigma Designs. "The new solution from Pinnacle, powered by our REALmagic technology is sure to whet the appetite for entertainment options consumers will experience with the press of a button."
The Pinnacle ShowCenter will be in stores at the beginning of November.
The EM8550 enables cost-effective solutions for consumer appliances, such as portable media players, low-cost video endpoints and progressive DVD players/recorders with PVR and networking. Unique features offered by the EM8550 include analog YPbPr/RGB video outputs with optional scaling up to HDTV resolution, video over IP, support for DVI/HDCP or LCD displays and support for external MPEG encoder and networking chips. A wide variety of media types are supported, accessible through a powerful navigation engine.
Pinnacle Systems provides broadcasters and consumers with cutting-edge digital media creation, storage, and play-back solutions for use at Home, at Work and on the Air. Pinnacle Systems' award winning digital media solutions are in use around the world for broadcast, video editing, DVD and CDR authoring and on the Internet. A recognized industry leader, the company has received eight prestigious Emmy Awards for its technical innovations and carries this commitment throughout all of its product lines.
Sigma Designs specializes in silicon-based MPEG decoding for streaming video, progressive DVD playback, and advanced digital set-top boxes. The company's award-winning REALmagic Video Streaming Technology is used in both commercial and consumer applications providing highly integrated solutions for high-quality decoding of MPEG-1, MPEG-2 and MPEG-4.