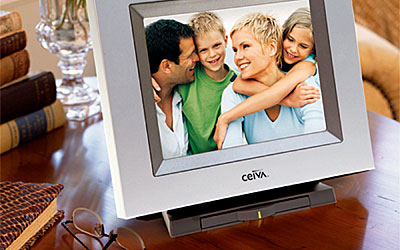 The CEIVA 3 Digital Photo Receiver allows consumers to automatically share and display an endless slideshow of all their treasured digital photos throughout the day. The broadband-ready digital photo receiver can now be connected through a home network or digital phone system with the option of connecting it through a traditional phone line. The new display automatically delivers thirty new photos every hour with more than seven hundred new photos every day.
"The evolution of the CEIVA 3 shows our commitment to bringing consumers even more options to stay connected and enjoy all of their digital photographs," said Dean Schiller of CEIVA Logic. "With CEIVA 3, our customers can see and share even more photos of loved ones throughout the day."
Resembling a traditional picture frame, the digital photo receiver's new styling includes a vivid 8.2-inch LCD screen showcased in two interchangeable frames in a silver finish and black frame. Sending photos to CEIVA is easy -- capture moments with a digital camera or send photos directly from a camera phone.
The CEIVA Logic Picture Plan service enables the Digital Photo Receiver to retrieve and display pictures sent from around the world and provide free and secure photo album storage, printing options, photo editing tools, and service support. CEIVA also provides customers with free access to news, local weather forecasts, sports and more that can be added to the daily slideshows. The CEIVA family of digital photo receivers can share photos from family and friends miles apart.
CEIVA Logic invented digital photo receivers.