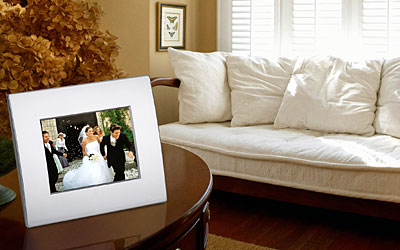 The Digital Photo Frame from Westinghouse Digital Electronics allows multiple photographs to be displayed in a single frame.
The 5.6-inch LCD display is easily customizable to match any home or office decor by attaching the included interchangeable mahogany, black or brushed aluminum frames. The frame allows consumers to create a slideshow or view individual digital snapshots by simply plugging in a digital camera memory card or downloading images from the computer's hard drive via a USB port.
"Digital cameras are transforming the way consumers take pictures, but their cherished memories still remain locked and often lost on computer hard drives or flash memory cards," said Douglas Woo of Westinghouse Digital. "Digital photos are best shared electronically and this frame provides an affordable display solution for sharing favorite digital photos."
The Westinghouse frame offers 8MB of internal flash memory for storing images and is also compatible with a range of flash memory cards.
The slim design fits conveniently on a flat surface or mounts onto a wall.
Using the control keypad on top of the frame, consumers can advance pictures one at a time, or view thumbnails, allowing users to preview all photos stored on the card and in the internal memory to select a specific photo for display, rotating images, and choosing the speed of the slideshow, as well as selecting transition effects.
"Our expertise easily translated into this small digital photo frame display," Woo said. "We are excited to offer technology that is designed to optimize digital photo displays."