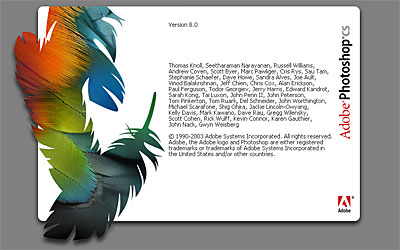 Photoshop CS2 is the latest version of Photoshop.
Adobe Photoshop CS2 is available as a stand-alone software application or as a component of the Adobe Creative Suite 2. Photoshop CS2 software is equipped with new features and simplified workflows delivering a greater level of power, precision and control to photographers, film, video and creative professionals.
Adobe Photoshop CS2 users will push creative boundaries with many new powerful and dynamic features, including Vanishing Point, which allows users to clone, paint and transform image objects while retaining visual perspective. The new Image Warping feature makes it easy to fold, stretch, pull, twist and bend images. A variety of new tools and commands address common, photographic problems, such as the Spot Healing Brush for blemishes and dust, the Red Eye Tool, Lens Correction, Smart Sharpen and Remove Noise. Smart Objects allow users to scale and transform images and vector illustrations without losing image quality -- as well as create linked duplicates of embedded graphics -- so that a single edit updates across multiple iterations.
"Adobe Photoshop CS2 is a mind-blowing new product innovation," said Bill Hurter, president, Wedding & Portrait Photographers International (WPPI). "From Vanishing Point to the Bridge to the absolutely magical qualities of the Healing Brush, the new Photoshop, which is but one part of CS2, will keep photographers and graphic artists busy catching up to the program for years. The most intuitive Photoshop yet."
Film, broadcast and video professionals rendering and compositing images in 3D will appreciate the flexibility to edit and create content with the new 32-bit High Dynamic Range feature. Projects can now be previewed in real-time on a television monitor with Firewire Preview, a new direct export feature that saves valuable time during the editing and rendering processes.
The acclaimed File Browser has been upgraded to Adobe Bridge in Photoshop CS2, which acts as a productivity, imagery and creativity hub and provides multi-view file browsing across all Adobe CS2 software applications. The Photoshop CS2 interface now adjusts to the needs of the user, offering task-based menu presets for easy access to critical features or the ability to create custom presets for common workflow scenarios. Multiple Layer Control speeds editing, enabling the simultaneous selection and manipulation of numerous layers within a file. In addition, the new Camera Raw 3.0 workflow allows photographers to simultaneously batch process raw files all in the background, without launching the main Photoshop executable.