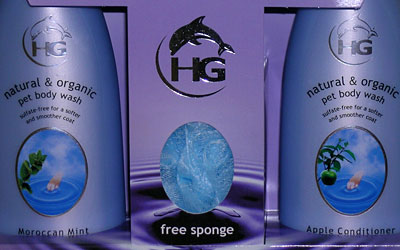 Pet Groomer of the Stars Chuck Rubin founded Hollywood Grooming, the mobile pet grooming company of choice for celebrities throughout the Los Angeles area. Having groomed over 30,000 pets in the past fourteen years, Mr. Rubin's attention to detail is unsurpassed. The company has introduced their own specialty formulated Pet Body Wash and Conditioner: HG Pet Body Wash.
Besides being a gentle, organic, pH balanced and all-natural pet shampoo with no sulfates, HG Pet Body Wash is the first pet shampoo manufactured in an FDA approved facility and the first pet shampoo to include valuable antioxidants.
Additional primary ingredients include proteins, essential lipids, Vitamins B5, C and E. This pet shampoo is also manufactured in several appealing scents, including coconut, lavender, Moroccan mint, oatmeal, and rosemary/cucumber. For sensitive pets, a hypoallergenic brand is available. HG Pet Body Wash also offers an enriching leave-on apple conditioner.
Mr. Rubin has also introduced a new and more efficient system of washing your pet like a professional. Included with each shampoo package is a free nylon mesh sponge along with directions on how to more effectively wash your pet.