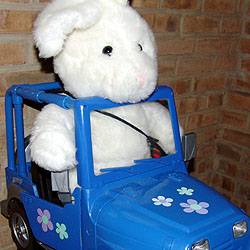 As many holiday travelers avoid air travel this year, Kozy K-9 announced today its "Dog-Safe Holiday Travel Tips" for dog owners traveling by automobile. Highlights include:
Make hotel reservations in advance at a "pet-friendly hotel," indicating in advance that you will have a dog in the room.
Avoid leaving your dog unattended in your hotel room, if possible. Being left alone in a strange environment can be upsetting to your dog, and he may damage the room or furniture. If you must leave your dog in the room, leave him in a dog crate and attach a note to the door indicating that a dog is in the room.
As always, avoid leaving your pet unattended in the car as well, especially in cold weather. At a minimum, use a Kozy K-9 Dog Blanket to keep your dog warm while in the vehicle. When the car is in motion, harness your dog in a canine seat belt to protect your pet as well as your vehicle's occupants.
If you are staying with friends or relatives, verify in advance that your dog will be welcome. Bring along a favorite toy to keep your dog occupied and a dog bed to make him feel more at home.
If traveling by air, check the weather-related restrictions pertaining to your flight. Typically, dogs can be carried on board if they are under 20 pounds and have appropriate carrying cases. Dogs traveling as checked baggage face a host of requirements, including health certificates, food, water and medicine, as well as breed-specific limitations. Consult your airline's web site for additional information.
Finally, if you plan to leave your dog behind during the holidays, make preparations well in advance. Kennels are typically completely booked during the holidays, and friends who normally care for your dog may be out of town as well.
Kozy K-9's signature line of nonskid dog blankets, featured in Dog Fancy Magazine, serve to protect your car's upholstery from hair and claws while keeping your dog comfortable and warm.