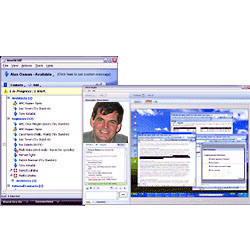 Convoq today announced the general availability of Convoq ASAP, a presence-enabled fusion of Web conferencing and video conferencing. It provides professionals with a new metaphor for convening rich-media meetings -- As Soon As Present -- by looking for the next slice of time when everyone who needs to attend is available. In addition, its powerful "Lifeline" capability permits users to instantly locate an available expert or resource. ASAP is available to individuals as their own personal Web conferencing system and to companies for enterprise-wide deployment.
ASAP is aimed at today's "interrupt-driven" professionals who need better tools to make time-critical decisions and solve problems quickly. For example, sales departments can create a Lifeline that resolves to a group of worldwide sales engineers. A sales representative faced with a deal-breaking question can tap this Lifeline to instantly collaborate with an available engineer to get the deal done.
"ASAP has fundamentally changed the way we collaborate, strengthening the links among our company and sales force, and with our customers," said Leif Honda, director of IT at Digilab. "We have a sophisticated product that frequently requires a salesperson and lab-trained applications engineer to effectively demonstrate. With ASAP, our sales force can call on customers in person and then demonstrate the product in real-time with a remote technician. ASAP's innovative Lifeline and Stand-in features give us means for instantaneous communications, raising our customer service to an even higher level. The logistical advantages and ROI are clear to Digilab and our clients."
Convoq ASAP is a secure hosted service that gives real-time professionals immediate access to each other by leveraging the presence information published by the most-popular instant messaging systems. Subscribers can invite participants either via IM or by e-mail. Invitees can instantly participate in multi-party audio/video and Web conferences without time- consuming downloads and installation.
"Presence is a huge driver in the exploding collaboration market, and this is where Convoq ASAP distinguishes itself," said Michael Osterman, president and founder of Osterman Research. "First, its core Convocation Management technologies leverage presence to instantly find the people or expert resources you need, no matter who they are, where they are located, or when you need them. Second, there is an 'instant in' nature to ASAP, giving individual professionals complete control over convening ad hoc, Web-based meetings. This combination is extremely powerful and a real change from what's been on the market to-date."
"We have developed an elegantly simple and cost-effective way to instantly collaborate with others," said Chuck Digate, founder, president and CEO of Convoq, Inc. "We've worked closely with customers in building ASAP to alleviate the pain of pulling together a group to solve a problem, make a decision, or deal with a crisis, and to reduce the difficulty in getting real- time access to individuals best-suited to assist with time-critical issues. Our business model gives every professional the power to initiate meetings and use these innovative tools; Web and video conferencing are no longer rationed technologies for the privileged few."
Convoq ASAP is now available as an annual subscription. ASAP Standard supports unlimited, 5-person meetings and is available for $49.95 per named user per year. ASAP Professional supports unlimited, 25-person meetings and is available for $99.95 per named user per year. Additional participants can be included in meetings for $0.15 per minute per additional participant.