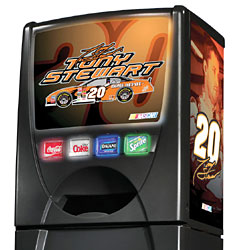 The Home Depot, the world's largest home improvement retailer, is partnering with Maytag to become the exclusive retail partner in introducing the SkyBox by Maytag, the world's first-ever customized home beverage machine. The all-new Maytag SkyBox vendor units will be available at Home Depot stores nationwide beginning March 1. The estimated retail price of the SkyBox vendor unit is $607.
The SkyBox beverage vendor is smaller in height and width than a traditional vending machine yet can hold 64 12-ounce cans, 32 12-ounce bottles or a combination of each, dispensed from four selection buttons. (Glass bottles, plastic bottles and cans may be stocked together). In addition, it may be customized on the front and side panels with sports logos from the NFL, NHL, MLB, NASCAR, college and other sports.
According to Home Depot's Bob Baird, global product merchant - appliances, Maytag's SkyBox home vendor is the ultimate exclamation point for any home theatre or recreation room. "Skybox combines innovation and convenience with a slice of fun. It's the ultimate new addition to your family's home entertainment zone. And, it doesn't require dollar bills or taking eyes off the TV to get your favorite beverage," says Baird.
The SkyBox vendor is available in Pitch Black or Grid Iron Platinum finishes with customized panels, child safety locks and 20 of the most popular beverage brands for labeling the selections. The child safety lock works on individual selections, enabling the operator to free up only the soda slots for the kids' birthday parties without having to restock. A low indicator light appears when a selection is almost empty. The unit includes a lower shelving area, ideal for snacks, DVDs or magazines.
"The SkyBox is another innovation from Maytag that makes life easier and more enjoyable," says Fred Lowery, product director of strategic initiatives for Maytag Corporation. "Its unique design brings the convenience of a beverage vending machine right into the comfort of your own home."