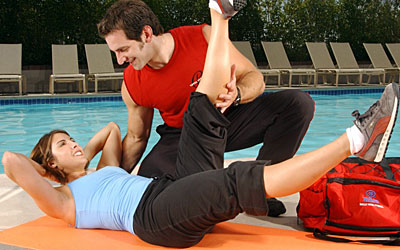 Hilton has signed an exclusive agreement with Bally Total Fitness to provide hotel guests with access to more than five thousand certified personal trainers at Hilton or Bally locations in major cities throughout North America. In addition, Hilton's Personal Performance Program includes enhancements to its in-room exercise options by offering an in-room mini gym designed by Bally at properties across the country.
A scientific study conducted on behalf of Hilton measured the impact of travel on performance and productivity and found that those who exercise while traveling performed sixty-one percent better than non-exercisers on alertness and reaction tests.
"Hilton has conducted extensive research throughout its rich history to identify unique opportunities to help our guests enjoy a rewarding travel experience when they stay with us," said Jeffrey Diskin of Hilton. "This new relationship with Bally Total Fitness provides our guests the additional motivation to maintain an existing exercise program, start a new one or simply get the advice and guidance of a certified personal trainer."
Personal training is one of the fastest growing segments of the fitness industry. According to the American Council on Exercise, the number of personal trainers is expected to double in the next three to five years.
"We are excited to form a relationship with Hilton, which coincides with our efforts to help consumers experience the Bally brand inside and outside our clubs," said Bally President Paul Toback. "By combining the total fitness leader with the preeminent hospitality company, anyone who travels will have the tools, guidance, knowledge and support needed to get fit or stay in shape while on the road."
Scheduling a session with a personal trainer is easy. For appointments at participating hotels, guests simply call the desired Hilton hotel and speak to the hotel's Personal Performance Leader to request a session with a personal trainer. The individualized training sessions can take place at one of Bally Total Fitness' four hundred locations nationwide, the hotel fitness center or at an appropriate outside area at an hourly rate.
Guests also can opt, at no charge, to checkout a Hilton Travel Fit Kit, a mini gym that includes Bally Total Fitness-branded products such as: a yoga mat, elastic exercise bands, resistance tubing, two sets of hand weights and basic conditioning instructions developed by the Bally Total Fitness head trainer that are easily done in the privacy of a guest room.
The Hilton Travel Fit Kits can be used privately by guests or with a certified Bally Total Fitness personal trainer. In addition, professional-quality treadmills are available for in-room use by Hilton guests in more than 100 participating locations for a nominal fee.
"For many people, travel is a lifestyle," said Diskin. "We want to ensure that lifestyle is as healthy, comfortable and enjoyable as possible."