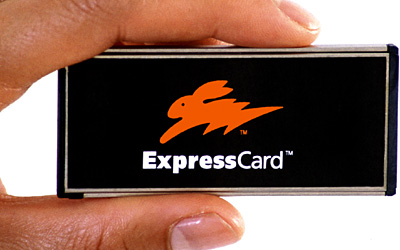 PCMCIA today announced that the first ExpressCard modules built using the new, high-performance hardware expansion standard will be displayed at CeBIT.
Working prototype and sample cards from leading companies such as AboCom Systems, Lexar Media, M-Systems, SCM Microsystems and Tai-Sol Group will be displayed, illustrating support for the growing spectrum of ExpressCard consumer applications, from flash memory to communications, multimedia and security.
Express Card technology will enable consumers to add flash memory, storage, security, multimedia and communications features by simply inserting a module into a notebook, desktop or other compliant system. ExpressCard technology supports sealed-box expandability in both desktop and notebook systems in a form factor that is roughly half the size of today's PC Card module but with improved performance. In addition, ExpressCard technology supports hot plug-n-play and auto-configuration.
"More and more companies are leveraging the Express Card technology to develop a wide range of innovative products for the market," said Brad Saunders of Intel Corporation and chairman of the PCMCIA. "CeBIT brings these ExpressCard modules together for the first time in one place. A wide range of applications are being developed to support the expansion needs of both consumer and business computer users. This display is a clear signal that industry momentum is continuing to grow."
The Express Card interface supports both the PCI Express architecture and Universal Serial Bus (USB) 2.0 standards in a single slot. ExpressCard modules will be available in two sizes: 34mm and 54mm (by 75mm x 5mm). ExpressCard technology will replace CardBus, the current standard for PC Cards. ExpressCard products are expected to become generally available starting in late 2004, following the availability of PCI Express-based systems.
Dell, HP, IBM, Intel, Lexar Media, Microsoft, SCM Microsystems and Texas Instruments are among those supporting development of the new standard under the PCMCIA umbrella.
PC Card technology allows users to connect media and new hardware capabilities to computers and other communications and consumer electronics devices. Examples are: flash memory cards, wired and wireless communications hardware, security devices, and emerging applications that were not available when the system was purchased. More than 95 percent of all notebook computers use PC Card technology for expansion.
Mishael Agami, Vice President, M-Systems, said that "the acceptance of ExpressCard technology by major computer manufacturers paves the way for portable and secure computing for the IT sector. As a leading flash technology innovator, we believe ExpressCard technology, with its semi-embedded form factor, fewer pins for easier design and high performance rates, is poised to be the next ubiquitous form factor for both PC and laptop secure memory applications including our XKey, KeySafe and EasyTrust applications."
Robert Schneider, Chief Executive Officer, SCM Microsystems, explained that "ExpressCard is an important development in interface technology as it supports the market's need for high performance while offering a flexible way to add new applications for next generation notebooks and desktops. As a founding member of PCMCIA and a leader in secure access technologies, we are developing a range of smart card readers in both ExpressCard formats to address the need for secure interface to many applications, including digital pay-TV and PC/network authentication."
Mian Huang Wibowo, Director of Business Development, Tai-Shuo Electronics, said "TaiSol is a proud supporter for the ExpressCard standard. Our 3-in-1 and 4-in-1 ExpressCard flash media adapters are only a small representation of the new applications that will emerge from this standard. TaiSol is preparing a full line of ExpressCard connectors for the laptop and desktop and we believe the incorporation of this standard in both platforms will benefit the consumer and the industry."
PCMCIA was a non-profit trade association founded in 1989 to establish technical standards for PC Card technology and to promote interchangeability among computer systems.