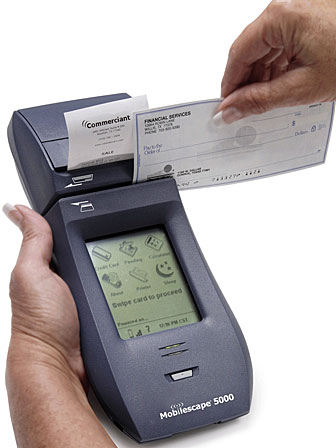 Commerciant's Mobilescape 5000 is the market's first wireless handheld device that accepts and processes both checks and credit cards in a single, integrated device. For the first time, mobile workers such as residential service providers, delivery service personnel, and merchants on the go can accept checks and credit cards with the peace of mind that checks won't bounce and credit cards are processed immediately. With the flexibility of accepting both checks and credit cards on the spot, merchants can now drive more revenue, lower business risk, and increase customer satisfaction.
For the millions of merchants who take payments in the field, the cashless economy is a growing reality: a 2004 study issued by the U.S. Federal Reserve stated that electronic payment transactions grew to 44.5 billion and nearly 37 billion check transactions occurred in 2003. Yet, for a merchant who cannot easily and securely process checks and credit cards in the field, bounced checks, lost checks, and card not present credit card transactions are a problem.
The launch of the Mobilescape 5000 provides merchants with a total solution that includes hardware, software, integration services, wireless service, transaction processing, and 24x7 customer support and maintenance. The Mobilescape 5000 minimizes time-consuming trips to the bank to deposit checks, and since checks are converted to electronic payments, funds are available faster, often by the next business day. With check verification and guarantee services, the Mobilescape 5000 relieves merchants of the financial risk of bounced or lost checks.
Prior to the launch of the Mobilescape 5000, check scanning in the field was difficult and cumbersome. The check scanners that could be used away from fixed locations required bulky attachments, additional equipment and power sources, leading to practically no use of these devices in the field. The Mobilescape 5000 uses a patented system for variable velocity scanning, which reliably converts the check information to a payment.
Along with electronic signature capture and instant online access to stored signatures and receipts, merchants now have the power and flexibility to accept payments on their customers' terms while being assured that the transactions result in funds received.
"We expect the Mobilescape 5000 will enable millions of merchants in businesses from home services to food delivery to increase revenues and reduce financial risk," said Commerciant CEO Timothy Davis. "Millions of at-home customers still expect to write checks for onsite services, and now for the first time, the Mobilescape 5000 gives the merchant the power to accept and process credit card and check payments everywhere. The customer wins by paying how they want, and the merchant wins by making more money and eliminating the risk of bad payments."
Mobilescape weighs one pound, four ounces without paper, has a 6000 transaction storage capacity, comes with an onboard thermal printer, uses variable-speed OCR check scanning technology, sports a CDMA modem with 144 kbps data rate, and is powered by a Lithium-ion battery with sleep mode life of over two weeks and a runtime of ten hours with intermittent use. It will be available in April 2006 for $899.