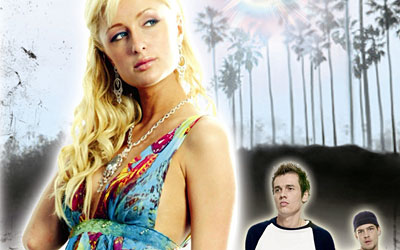 The independent film The Hillz -- featuring an ensemble cast of Paris Hilton, Rene Heger, Jesse Woodrow, and Jason Shaw -- will come out on video on March 8, 2005. Rounding out the cast is Eric Priestly, James DeBello, Vince Rimoldi, Silas Gaither and a cameo appearance from Trishelle Canatella.
Beneath the tranquil atmosphere of The Hillz, four affluent suburban teens are caught up in a web of spiraling trouble. After a year away at college, Steve 5 (Woodrow) returns to find his neighborhood radically changed. His best friend, Duff (Heger), has become the head of a group that has turned the beautiful suburban hills into a bad place. Duff finally has respect, plenty of cash and cool new friends. Finding himself lured into Duff's new life, Steve 5 struggles to stay true to his dream of becoming a professional baseball player and also trying to win the love of the unattainable Heather (Hilton).
Combining the grittiness of Boyz N the Hood and the flavor of TV's The OC, the film is a comedic, pulse-pounding adventure on the hood's leaf-strewn streets.
Image licensed the domestic home video rights to The Hillz from Halfway House Entertainment, the production company formed by first-time director, writer and producer Saran Barnun, whose industry experience includes stints in publicity at Twentieth Century Fox, acquisitions at Miramax Films and various production companies, with Martin Landau and first-time producer Jonathan Bayle, whose industry experience includes a stint with Steven Adams Entertainment and Luna Ray Films.
The 20-something Barnun describes The Hillz as "a modern-day Shakespearean tragedy . . . kind of like American Pie meets Pulp Fiction with a dash of Clockwork Orange."
On working with Paris Hilton, who co-stars in The Hillz as Heather Smith, the object of every guy's desire, Barnun said, "Paris Hilton was a pleasure to work with. There was never any attitude with her from the first day that I met her. She worked for me for free; she even did her own hair and makeup. Paris also ate the same Jack in the Box, Pizza Hut and 99 Cents Store craft services as everyone else. I told her she could get her lunch from The Ivy but she just ordered a turkey sandwich with no mayo from Subway."
The Hillz on DVD will be presented in 1.78:1 aspect ratio, enhanced for 16:9 aspect ratio televisions, Dolby audio, and will feature an audio-commentary by Barnun, Bayle, Woodrow and Heger, script and trailer. The DVD has a suggested retail price of $24.99 and the VHS has a suggested retail price of $24.98.