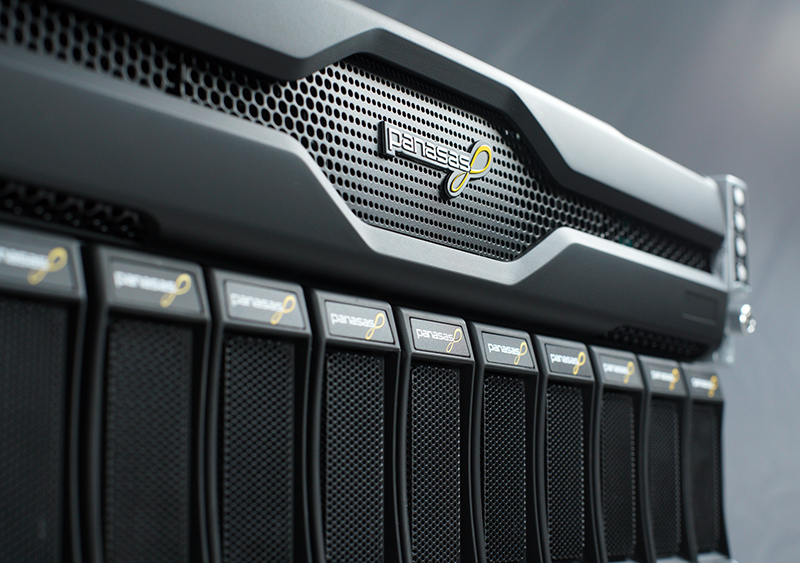 On November 8, 2017, Panasas introduced the next generation of its ActiveStor scale-out NAS parallel hybrid file storage system, capable of scaling capacity to 57PB and delivering 360GB/s of bandwidth. This flexible system doubles metadata performance to cut data access time in half, scales performance and capacity independently, and seamlessly adapts to new technology advancements. The new ActiveStor Director 100 (ASD-100) control-plane engine and the new ActiveStor Hybrid 100 (ASH-100) configurable plug-and-play storage device offer users the flexibility to design storage systems that meet their exact specifications and workflow requirements, now and in the future.
A hybrid drive is a logical or physical storage device that combines a fast storage medium such as NAND flash solid-state drive (SSD) with a hard disk drive (HDD), with the intent of adding some of the speed of flash storage to the cost-effective storage capacity of traditional HDDs. The purpose of the SSD in a hybrid drive is to act as a cache for the data stored on the HDD, improving the overall performance by keeping copies of the most frequently used data on the faster SSD.
The new ActiveStor solution accelerates time to results for traditional and commercial high-performance-computing (HPC) use cases such as manufacturing, life sciences, energy, government, education and research environments, in addition to applications in media and entertainment. It uses the ASD-100, the ASH-100, an updated PanFS 7.0 parallel file system, and enhancements to the DirectFlow parallel data-access protocol to deliver these advantages:
Performance – Users can scale metadata performance, data bandwidth, and data capacity independently for faster time to results.
Flexibility – The ability to mix and match HDD and SSD configurations under a single global namespace enables users to best match the system performance to their workload requirements.
Productivity – The new ActiveStor solution doubles productivity by cutting data access time in half, regardless of the number of users.
Investment Protection – The solution is backward and forward compatible with the ActiveStor product portfolio.
The ActiveStor product line is a computer appliance that integrates hybrid storage hardware, file system PanFS and network protocols. It uses a computer cluster to provide scalability, known as scale-out. ActiveStor systems combine high-capacity hard drives and solid state drives for improved mixed-workload performance with rapid access to small and large files alike.
ASD-100 - For the first time, Panasas is offering a disaggregated Director Blade (ASD-100), the brain of the Panasas parallel hybrid file storage system, to provide the ultimate in flexibility. Customers can now add any number of ASD-100s to drive exactly the level of metadata performance they need. With double the raw CPU power and RAM capacity of previous Director Blades, the ASD-100 delivers double the metadata performance on metadata intensive workloads. Based on industry-standard hardware, the ASD-100 manages metadata and the global namespace; it also acts as a gateway for standard data-access protocols such as NFS and SMB. The ASD-100 uses non-volatile dual in-line memory modules (NVDIMMs) to store metadata transaction logs, and Panasas is contributing its NVDIMM driver to the FreeBSD community. FreeBSD is a free and open-source Unix-like operating system descended from Research Unix via the Berkeley Software Distribution (BSD).
ASH-100 - The ASH-100 is the first hardware platform to offer the highest capacity HDD (12TB) and SSD (1.9TB) in a parallel hybrid storage system. A broad range of HDD and SSD capacities can be paired as needed to meet specific workflow requirements. The ASH-100 can be configured with ASD-100s or can be delivered with integrated traditional ActiveStor Director Blades (DBs), depending on customer requirements.
PanFS 7.0 - The latest version of the industry's only plug-and-play parallel hybrid file storage system features an updated FreeBSD operating foundation and a dynamic GUI that supports asynchronous push notification of system changes without user interaction. The PanFS clustered file system creates a single pool of storage under a global filename space to support multiple applications and workflows in a single storage system with high performance for technical applications.
DirectFlow Client - The updated DirectFlow parallel data access protocol offers a 15 percent improvement in throughput due to enhancements to memory allocation and readahead. All ActiveStor models will benefit from this performance increase after upgrading to the new release of PanFS. DirectFlow avoids traditional protocol I/O bottlenecks by allowing computer clients to access storage directly and in parallel.
Panasas develops high performance network attached storage for unstructured data.