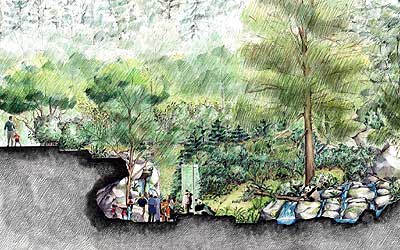 Fujifilm broke ground on a new home for the National Zoo's giant pandas, Mei Xiang and Tian Tian. The renovation of the Fujifilm Giant Panda Habitat will nearly double the outdoor space of the Zoo's current 17,500-square-foot exhibit, providing closer visitor contact with the pandas. The new habitat is a first-of-its-kind exhibit that will give visitors a sense of how pandas live and interact in the Asian wildlife and with humans who share their native habitats. Completion of the new habitat is scheduled for the first quarter of 2006.
A $7.8 million grant from Fujifilm, the largest donation the Friends of the National Zoo has ever received, will help pay for the future home of the giant pandas - the principal undertaking in the first phase of its 10-year renewal plan. The Fujifilm Giant Panda Habitat will support efforts in the United States and China to save giant pandas from extinction.
"Funding construction of the Fujifilm Giant Panda Habitat underscores Fujifilm's commitment to preserving the earth's biodiversity," said Lawrence M. Small, Secretary of the Smithsonian Institution. "They are terrific partners!"
The expanded habitat will be custom designed for Mei Xiang and Tian Tian and is based upon behavioral preference data collected since they arrived at the National Zoo in December of 2000. The new expanded habitat will include a slide for the pandas to roll down, cool rocks both for pandas and for visitors, and foggers that will create a cooler area more natural to the giant panda's native habitat. The expansion of the Fujifilm Giant Panda Habitat will anchor the first phase of Asia Trail, a new section of the Zoo highlighting animals native to the Asian continent.
"As part of our worldwide commitment to environmentally friendly practices, Fujifilm is proud to be a partner in conservation with the National Zoo," said Stanley Freimuth, Executive Vice President and Chief Operating Officer of Fuji Photo Film U.S.A., Inc. "The Fujifilm Giant Panda Habitat is a symbol of our collective pledge to improving our world - one person, one classroom, and one species at a time -- while helping to maintain the status of the National Zoo as one of the world's great zoos."
Fujifilm pioneered the development of digital X-ray systems, and today is the leader in digital minilab systems.
Friends of the National Zoo supports the mission of the Smithsonian's National Zoo to celebrate, study, and protect the diversity of animals and their habitats.