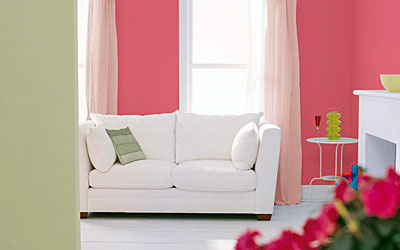 By the time teenagers are sixteen, they spend at least half of their waking time in the bedroom, as they seek a retreat from the stresses of school and their home environment. In their bedroom, teenagers enjoy creating a unique style that often features multiple shapes, colors, and accessories.
Contemporary teenage bedrooms complete with multimedia centers housing computers, televisions, video game consoles, and stereos can say a lot about a teenager's personality. Whether fashion icons, extreme sports celebrities, or the latest heart-throb band, the atmosphere of the bedroom is a personal reflection of individual characteristics. Pittsburgh Paints' Artistic Director Josette Buisson has embraced this youth-like movement towards mixing technology and creativity by making it one of the design trends of 2006.
Categorized as Color Delight, Buisson says this trend reflects a teenager's youthful, colorful look on life. This trend reflects the joy of discovery and feelings of optimism. The colors in the trend feature a fresh look and search of new experience. The environment flourishes with technology and advanced products that evoke emotion. The colors embrace bright pinks and greens.
Decorating with the Color Delight trend is easy. Two Pittsburgh Paints' color palettes, Shaker and Poppy Love, comprise the Color Delight trend and can help coordinate additional paint colors and accessories for the room. Fun plastic objects, translucent materials, and bubbly accents all complement these color palettes. Simple accessories such as large, round overhead light fixtures, curvy vases and bold pastel pillow covers are easy to find in any home decorating store.
In The Light Years Pittsburgh Paints' Emerging Color Trends for 2006, color expert Josette Buisson forecasts a movement in design towards decorating with meaning and purpose. The Light Years represent light and use the color white as a common denominator that connects the four unique trends. The new 2006 trends include Color Delight, Modern Artisan, Prana, and Strategy.
PPG employs more than twenty color stylists from around the world in different markets, collaborating to determine styles and trend colors.
For decorating tips and information on color trends, visit Voice of Color.