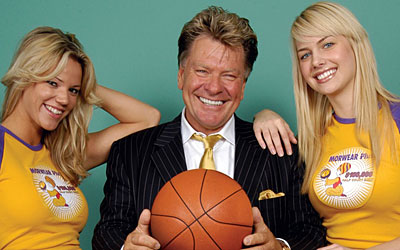 Morwear Plus Advanced Mold Control Paint will sponsor the half-court $100,000 promotion for the Lakers vs. Miami game on December 25, 2004. The half-court shot marks the launch of the most revolutionary anti-mold paint on the market. A contestant will be selected at random during the first quarter to shoot for the largest cash prize given out during half time at a Laker's game in the past fifteen years.
"Morwear is launching a product that is a slam dunk against mold on the biggest game day this year," says Eric Von Knipe of Morwear. "Morwear Plus will change the way people think about paint."
Morwear Plus is a premium-quality, high-performance, mold-control coatings line that can be used instead of standard paints. Additionally, they are the only anti-mold paints that are offered in a wide range of sheens and color choices that can be matched to any color.
Morwear Plus Advanced Mold Control paints and primers are for industrial, residential and commercial use and can be used everywhere, from homes, offices, and schools, to hospitals and commercial buildings. All products are available in one and five gallon sizes. Additionally, Morwear Plus is EPA registered to protect the paint film only from mold and mildew.