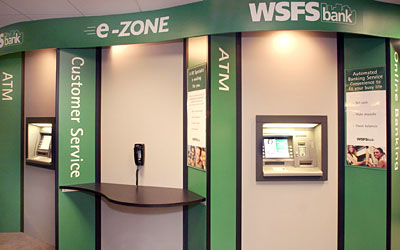 WSFS has opened an advanced ATM with online banking services at the University of Delaware. E-zone introduces new technology enhancements to traditional banking service.
"Over 80% of our student banking customers perform all of their transactions at the ATM; with that in mind, we designed a facility that delivers technology-based banking with convenience and high levels of service," said Jennifer McCollum, WSFS Vice President.
The new office design offers expanded hours, additional electronic banking ATMs, telephone banking, and new and improved online banking features - all in one convenient location.
Additional access hours to the enhanced WSFS e-zone give students greater convenience and security. Two new ATMs were added for faster transactions, along with dedicated customer service phones for quick response to questions. Online banking was enhanced and students can manage their accounts from inside the branch via an Internet connection or from the comfort of their own PC.
As part of the introduction period, a WSFS Bank Greeter helps students conduct banking transactions. "Our primary objective is to help introduce students to the new technology," said McCollum. "We will be here to guide them through the options or to answer any questions," she adds.
WSFS Bank also provides full-service banking from offices connected to the new e-zone.
The University of Delaware and WSFS Bank entered into a banking relationship in 1998 by working together to bring ATM access to students through the UD#1 Student Identification Card.
Currently, WSFS Bank has 10 ATMs located throughout campus, and a full- service and electronic banking office in the Trabant University Center.