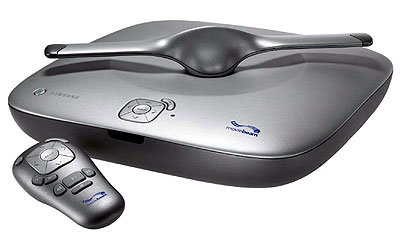 The Walt Disney Company today announced the launch of its MovieBeam on-demand movie rental service. MovieBeam will give consumers instant access in their homes to recent DVD and video releases, as well as a wide variety of popular favorites, from almost all of the major studios.
This week, MovieBeam will launch in Jacksonville, Florida; Salt Lake City, Utah; and Spokane, Washington. Consumers in those three markets will have the ability to rent films from their homes without the inconvenience of trips to and from the video store and without the possibility of incurring rental late fees.
The MovieBeam receiver -- manufactured by Samsung Electronics -- is a first-of-its-kind device that automatically receives movies, stores them on its hard-drive, and gives consumers the opportunity to view them on their schedule. MovieBeam always offers 100 movies in full digital quality, and every week, about 10 new movies are transmitted via a digital wireless signal to the MovieBeam receiver's small indoor antenna, replacing 10 titles. The data transmissions take the form of secure data streams and are sent through the broadcast spectrum of television stations owned by ABC and National Datacast's network of PBS stations. MovieBeam will work whether or not a consumer has a cable or satellite television subscription.
The MovieBeam service will offer a broad range of movies, including popular action, drama, comedy and family titles. MovieBeam currently has agreements in place with DreamWorks SKG, Metro-Goldwyn-Mayer Studios, Miramax Films, New Line Cinema, Sony Pictures Entertainment, Universal Studios, Warner Bros., 20th Century Fox Studios and Walt Disney Studios. MovieBeam will feature current titles from all of these distributors in the "video-on-demand (VOD)" window. MovieBeam will also license library titles from several of these distributors. (There is an attached list of the 105 movies that will be featured on MovieBeam at launch.)
"MovieBeam provides a unique, new and convenient approach to watching movies at home and further demonstrates Disney's commitment to using new digital technologies to develop new businesses that deliver content direct-to-consumers, generate growth and combat the threat of piracy," said Peter E. Murphy, Senior Executive Vice President and Chief Strategic Officer of The Walt Disney Company. "The innovative MovieBeam business model relies on existing broadcast spectrum to achieve significant bandwidth to the home with limited initial investment. MovieBeam also uses state-of-the-art technology from Samsung for this next-generation service."
"Samsung is excited to be working with a talented team from Disney to pioneer this amazing breakthrough in digital home entertainment," said Gee-Sung Choi, President of the Digital Media Network Business of Samsung Electronics. "MovieBeam represents everything Samsung is striving to accomplish as a global leader in digital convergence products. By making powerful new technologies available yet invisible to the user, MovieBeam conveniently delivers instant fun and entertainment for all who love movies. Samsung and Disney are transforming home entertainment technology as we know it."
"We are excited to make our films available through the MovieBeam secure and innovative service, which enhances the consumer experience by offering broad choice and greater convenience," said Peter Levinsohn, Executive Vice President, Twentieth Century Fox Pay Television and Pay Per View.
"We are pleased to be an inaugural licensor to the MovieBeam service, which will offer consumers an new way to watch movies in the home and will help grow the movies-on-demand category by providing a complementary service to existing distribution methods," said Jeff Calman, Executive Vice President of PPV & VOD of Warner Home Video.
Consumers can see a live demonstration, interact with the MovieBeam receiver, and sign up for the service at electronic retailers, including Best Buy, Circuit City, Sears, Huppin's Hi-Fi, Magnolia Audio Video, RC Willey, Sound Advice and Ultimate Electronics. The service will have dedicated retail displays -- with cutting edge Samsung LCD monitors -- in each store. The display will include a working receiver that will enable consumers to experience the MovieBeam service and watch previews for all 100 movies available. Each retailer is working closely with MovieBeam to ensure that store employees are well trained in the features and benefits of the product. Each retailer will also be able to run a quick coverage check before sign-up to ensure that the consumer's residence is within the MovieBeam signal footprint.
"We are excited to bring the MovieBeam service to our customers because it adds convenience and simplicity to the home entertainment experience and furthers our commitment to offering new technology and services to our customers," said Kim Maguire, Executive Vice President, Chief Merchandising Officer of Circuit City.
"Sears is the third-largest retailer of televisions in the United States, and this new service from MovieBeam fits very well with our strategy to provide customers with convenient ways to watch movies," said John Schlenner, Divisional Merchandising Manager of Sears.
There is no equipment to purchase in order to sign up for the MovieBeam service. MovieBeam requires only a $6.99 per month equipment service fee and a per movie viewing fee of $3.99 for New Releases or $2.49 for Popular Favorites. This fee entitles the consumer to unlimited viewing of the title for 24 hours. There will also be a one-time activation fee of $29.99 required in certain areas.
MovieBeam service provides consumers with convenient in-home access to an ever-changing lineup 100 feature movies.