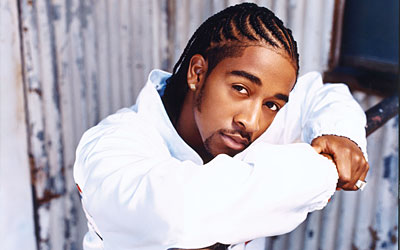 Omarion rose to fame while still a teen as a member of the groundbreaking urban boy band B2K. His soulful vocals helped B2K score a hit with the group's very first single, Uh Huh, in 2001; achieve gold status with the group's self-titled debut album in 2002; and go platinum with Pandemonium in 2003.
In addition to his musical performances, Omarion has acted on the big screen with key roles in You Got Served and Fat Albert.
In March, O, the debut solo album from Omarion, debuted on the Billboard Top 200 bestselling albums chart at number one. The 20-year-old contemporary R&B powerhouse has entered the ranks of bona fide solo stardom.
O sold more than 180,000 units in its first week in the stores, with roughly 30% of its sales coming from DualDisc purchases. Omarion's O is one of the very first new music titles to be released simultaneously as a CD and as a DualDisc.
Omarion's electrifying appeal and powerful performance style is ideally suited to the compelling visual aspects of DualDisc. And, demonstrated by the strong showing of his first week's numbers, Omarion fans are happily embracing the new product option.
The DualDisc version of O features the album in its entirety on the audio side while the DualDisc DVD side includes the full album in 5.1 Surround Sound and enhanced LPCM Stereo; an exclusive interview with Omarion; MTV's Diary of Omarion; and the music video for O.
O, the title track from Omarion's eagerly-awaited debut solo album, is already burning up radio airwaves coast-to-coast and is moving up the Billboard Hot 100.
Omarion has been seen on various MTV series including Diary and Cribs and was a presenter on the TRL Awards program.
For his debut solo album, Omarion collaborated with some of the hottest producers on the contemporary urban music scene. Omarion co-wrote five of the songs on the album, which he hopes will show fans a "deeper insight of what goes on inside my head." "Love," he admits, "is always the topic." The album, a stunning blend of old school skills and new school sounds, is a compelling mix of silky ballads and mid-tempo jams.
With the first side of every DualDisc containing a full audio album, and the DVD side providing the same album in enhanced sound (such as 5.1 Surround Sound), along with such multimedia features as music videos, documentary footage, photo galleries, web links, and so on, DualDisc was created to bring the fan even closer to the creative artistic process. DualDisc adds an exciting new dimension to the consumer's musical experience. One disc, two experiences.
The singer, dancer, and actor released his first autobiography in February.