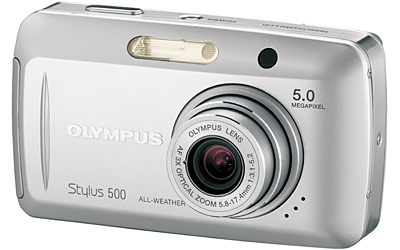 The next generation in its Stylus series of premium point-and-shoot digital cameras features a bright 2.5-inch LCD, 5 megapixels of image resolution, and an all-weather body.
The bright, clear 2.5-inch Hyper Crystal LCD with 215,000 pixels of high resolution puts the Stylus 500 in a class of its own. Because it is a Hyper Crystal LCD, it delivers a high contrast image and 160 degree wide-view radius. So gather your friends around - your photos are viewable from above, from the side, and from below. And while conventional LCD screens appear dim against bright light, the LCD provides excellent visibility in any light condition.
The Stylus 500 Digital combines a 5.0-megapixel CCD sensor with Olympus' exclusive image processor, TruePic Turbo, which significantly enhances image quality and delivers faster overall processing speeds for rapid startup, shutter release and playback. The processor allows the Stylus 500 to capture information from all 5 million pixels with pixel "micro-smoothing" that delivers clearer and more color-accurate photos, even at lower resolutions. The result is high quality prints that can be cropped and printed to 11 x 14 inches and larger.
The body is constructed of durable, lightweight metal with rubber gaskets throughout the interior to protect from rain, sleet, snow, and sand.
In addition to the durable, all-weather construction that made the Stylus famous, the Stylus 500 boasts a new flat-surface body design that takes the series in a new direction.
The look of the Olympus Stylus 500 is all about clean lines. Smooth, rounded edges make the camera comfortable to hold and easy to handle, and at a compact size, it fits snugly into a pocket and will not crowd a backpack. The circular lens barrier tucks away inside the camera body with a snap when powered on, and protects the lens with an impenetrable seal when closed, leaving the camera face smooth and flat. The back of the camera features a simple, functional design that emphasizes the large 2.5-inch LCD.
The Stylus 500 offers advanced features with point-and-shoot simplicity. Designed to perform during a variety of occasions, 23 shooting modes can be accessed through the camera's menu, providing fully automatic exposure adjustments for shooting Portraits, Landscapes, Fireworks, and more. The camera's shooting modes now include two new underwater shooting modes and two Shoot and Select modes, which enable users to shoot rapid sequences of frames then select the best shot from the series and delete the rest.
The Olympus Stylus 500 will change the way you view your digital camera. Now instead of simply capturing images with the Stylus 500, you can think of it as a portable digital photo album that goes wherever you go. With a new Album Function, photos can be easily organized into photo albums stored on the camera's xD-Picture Card. Create up to 12 individual albums of 100 images each, in the order you want to show them, and take your photos everywhere - your photo album will no longer be confined to your coffee table.
Olympus photos are known worldwide for sharp, vibrant image quality. This is achieved through a number of key technologies, such as Olympus' high-quality all-glass lens (with aspherical lens elements), designed specifically for digital cameras.
The Stylus 500 also features an all-weather speaker and microphone, enabling users to narrate images with personalized audio captions. With its QuickTime Movie Mode, the Stylus 500 can record movies of any length, limited only by the size of the memory card in the camera.
Connecting the Stylus 500 to a computer is easy with the USB Auto Connect feature, which connects directly via USB 2 cable and requires no software. Or, If you prefer, forget the computer altogether. The power of PictBridge technology enables photos to be printed directly from the Stylus 500 to any PictBridge-enabled printer, such as the Olympus P-10 Digital Photo Printer, without using a computer. Printing and sharing images has never been easier, and the P-10's photo lab-quality dye-sublimation printing produces archival-quality prints in rich color.
Olympus Master software provides the ultimate in digital imaging management. An intuitive user interface makes downloading to your computer quick and simple, and images are searchable by date or keyword in the Calendar View. And with one-click editing tools, such as red-eye reduction, images can be touched up before printing or emailing. Online support, templates, firmware upgrades and other user services are just a mouse-click away.
The Stylus 500 will be available in January 2005. It includes: 32MB xD-Picture Card, Wrist Strap, Camera WIN/Mac USB Cable, Audio/Video cable, Li-12B Li-Ion Rechargeable Battery and Charger, Quick Start Guide, Basic Instruction Manual, Warranty Card, CD-ROM with Olympus Master Software, and Camera reference manual. The expected price is $399.99.