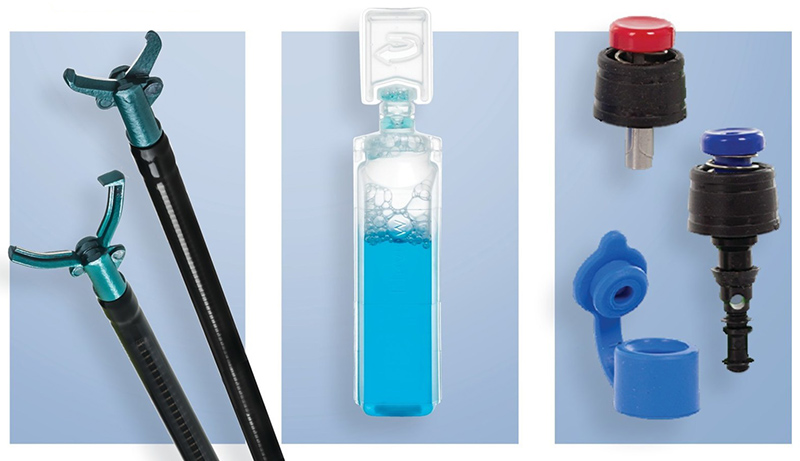 An endoscopy is used in medicine to look inside the body. The endoscopy procedure uses an endoscope to examine the interior of a hollow organ or cavity of the body. Unlike many other medical imaging techniques, endoscopes are inserted directly into the organ.
The 3-in-1 SB Knives enable mucosal incision, submucosal dissection and hemostasis, for controlled, precision cutting. The SB Knives are a line of scissor-type ESD knives available in the U.S. through an exclusive distribution agreement between Olympus and Sumitomo Bakelite. SB Knives are used in ESD to remove early gastrointestinal cancers that have not entered the muscle layer. Minimally invasive ESD procedures can sometimes help patients avoid open surgery. These knives further emphasize Olympus' status as an ESD champion, building on its influence in the early development of ESD as a practice, which was first identified as a procedure separate from endoscopic mucosal resection in 2003.
Olympus announced its co-promotion agreement of Eleview in the U.S. with Aries Pharmaceuticals. Eleview, designed for easy and safe resection, increases visibility of target lesion margins and is designed to lower the risk of perforation. Eleview improves margin visualization to help decrease the risk of gastrointestinal perforation and damage to the external muscular layer, which can lead to gastrointestinal perforation and may decrease the time needed to resect a lesion while reducing both reinjections required and piecemeal excisions, as compared to saline. Eleview was developed by Cosmo Pharmaceuticals. Olympus and Aries will work together to promote Eleview to end-user customers and will each sell the product through their existing distribution networks. This combined effort will leverage both company's established salesforce and distribution networks to address the colonoscopy market in an efficient and cost-effective manner.
Additionally, Olympus announced its exclusive distribution agreement with Ruhof Healthcare for Guardian Endoscope Single-Use Valve Set, a sterile, disposable valve that eliminates the need for manual cleaning. Manufactured by Ruhof, Guardian Endoscope Single-Use Valve Set will be distributed in the U.S. by the Olympus Endoscopy Sales team. Designed for use in Olympus 140/160/180/190 Series Endoscopes, Guardian Endoscope Single-Use Valve Set is color coded for easy identification and differentiation. Each set contains one air/water, suction and biopsy valve and helps to prevent cross contamination. Through this partnership, Ruhof and Olympus are helping to create consistent practices and reduce the potential for error and healthcare-associated infections.