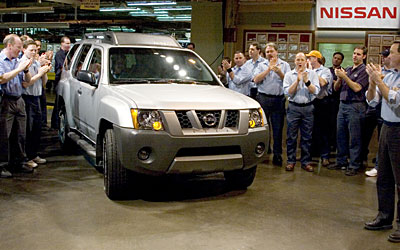 To the applause of employees who built it, the first 2005 Nissan Xterra rolled off the manufacturing assembly line today, the latest in a series of three truck-based products that have been significantly updated for the 2005 model year.
"Our company's product revival began with our 1999 launch of this innovative SUV," said Dan Gaudette of Nissan. "With this second generation, we've added more power, room and utility, something our consumers have said they wanted. Xterra customers -- be they on-road or off-road enthusiasts -- will not be disappointed in the evolution of this product."
The all-new SUV, which will be offered in both 4WD and 2WD configurations with an available enhanced off-road system, is built on Nissan's new F-Alpha platform, a modified version of the platform used in the Titan full-size and Frontier midsize trucks and the Armada full-size and Pathfinder midsize SUVs. Larger than the original award-winning Xterra, the 2005 Xterra comes in a fully boxed, all-steel ladder frame, with a steel double-wishbone front suspension with stabilizer bar and rigid leaf spring rear suspension. Its ground clearance has also been enhanced.
The new Xterra's interior features more room in front and rear seating areas and additional head room. Similar in design to the cargo systems on the Nissan Titan and Nissan Frontier trucks, a new adjustable channel Utilitrack System in the Xterra's cargo floor makes it easier to secure bike racks, gear and other accessories.
The 2005 Xterra is powered by a 4.0 liter DOHC V6 engine, rated at 265 horsepower and 284 pounds per foot of torque. The engine will be standard in all three models of the vehicle -- the S, Off-road and the SE. Based on the award-winning Nissan VQ engine series, the Xterra's powertrain features a longer stroke specifically tuned for SUV and truck applications.