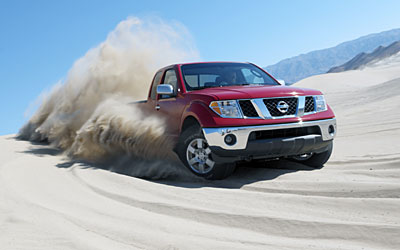 Nissan today announced best-in-class horsepower and torque ratings for the all-new 2005 Nissan Frontier pickup, which goes on sale at Nissan dealerships nationwide in December 2004. The completely redesigned Frontier comes equipped with an available 4 liter DOHC, 24-valve V6 engine that is rated at 265 horsepower and 284 pounds per foot of torque. Both figures are expected to be the highest ratings for any V6-equipped pickup -- mid-size or full-size.
"We want to announce the new Frontier's exceptional horsepower and torque ratings now to let mid-size truck buyers know that help is on the way," said Mark McNabb, vice president and general manager, Nissan Division. "Frontier's association with our full-size Titan goes far beyond its styling -- it takes the same bold approach to offering new, unexpected levels of power, performance and innovation to buyers tired of the status quo."
The new Frontier powerplant is derived from Nissan's award-winning VQ engine series utilized in the 350Z, Maxima, Altima, Murano and Quest. The 3.5-liter V6 VQ has been named to Ward's Communications' "Ten Best Engines" list for each of the last 10 years.
The new Frontier engine features a longer stroke than the 3.5-liter version (92.0 mm versus 81.4 mm) and has been specifically tuned for truck applications.
In addition to the taller engine block, the engine has been modified to include additional block reinforcements and increased main journal diameter for improved NVH (noise, vibration and harshness control).
Like other engines in the VQ series, the new 4.0-liter version includes such advanced design features as Electronic Throttle Control with secondary mapping in 4LO (4x4 models), Continuous Valve Timing Control (intake only), Nissan variable Induction Control System (NICS), Nissan Direct Ignition System (NDIS), silent timing chain, microfinished camshaft and crankshaft surfaces, molybdenum-coated pistons, resin intake manifold, digital knock control system, high capacity muffler, lightweight aluminum block, and platinum-tipped spark plugs.
The new Frontier powerplant will be produced at Nissan's engine assembly plant in Decherd, Tennessee. The facility produces 950,000 engines and 300,000 transaxles annually and recently announced a $47.3 million expansion program. In addition to the Frontier's new 4.0-liter V6, the Decherd plant builds all the engines for the complete line of Nissan and Infiniti vehicles manufactured in the United States, including a 2.5-liter 4-cylinder, 3.5-liter V6 and a 5.6-liter V8.
Along with its modern, rugged styling, the 2005 Frontier shares a number of significant features with Nissan's full-size Titan, including its rugged suspension design, innovative spray-in bedliner, Utili-track bed channel tie-down system and fully boxed, all-steel frame (based on the Titan F-Alpha platform).
The 2005 Frontier will be offered in both King Cab and Crew Cab body styles and in 4x2 and 4x4 driveline configurations. The new Frontier, like the previous generations, will be assembled at Nissan's manufacturing facility in Smyrna, Tennessee.