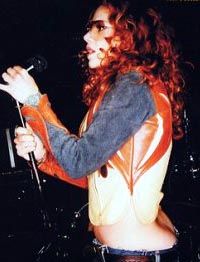 Everybody Got Their Something - 1. Like A Feather 2. So Have I For You 3. Tug Of War 4. Everybody Got Their Something 5. Nothing 6. Nikka What? 7. Hope It Felt Good 8. Some Kind Of Beautiful 9. Nikka Who? 10. Just Because 11. Push & Pull 12. Corners Of My Mind.
Nikka Costa's fiercely bootylicious first single, "Like A Feather"--that song with the thick, clapped 16th notes--has already garnered the 28-year-old singer one hell of a buzz, and for the most part, she's got the goods to back it up. Already a platinum-selling artist in Europe and South America, the Tokyo-born, L.A.-bred singer's stateside debut bulges with ambition. It's a mixed bag of musical tricks that's equal parts '70s-style funk, hazy Led Zeppelin-inspired psychedelia, and angst-ridden alternachick yowling, with healthy dollops of soul, hip-hop, and thrash thrown in for good measure. Produced by Costa, Australian rocker Justin Stanley (who's also the singer's husband), and high-profile New York City deejay Mark Ronson, the album works best when it piles on the noise--like on the standout "Tug Of War," which features the unmistakable rim-shot work of Roots drummer ?uestlove. On that track, a flurry of scratched samples, layers of soundboard-smeared noise, and a few luscious string sweeps break into gospel-choir harmonies that swirl gorgeously beneath Costa's reedy mezzo-soprano wails. It's a shame that she can't match this intensity on sparser down-tempo ballads like "Nothing" and "Just Because," where she sounds like Fiona Apple's slightly less annoying older sis. As the album's title says, everybody got their something, and Costa sounds best when she sticks to hers.
Nikka Costa's career began at age five when she sang with Don Ho in Hawaii for a Christmas release produced by her father, Don Costa, who had worked with the likes of Frank Sinatra and Barbra Streisand. In her father's home recording studio, the young Costa would hang out with stars like Quincy Jones and Sammy Davis Jr. Concerts and performing have represented some of the most significant moments in Costa's life. Although she was raised and lives in Los Angeles, she was born in Tokyo during the Tokyo Music Festival. At age seven, she sang "On My Own" with the full Don Costa Orchestra as the encore of one of his Milan shows. The crowd and Italian press reacted with enthusiasm to her performance, which led to her first record. It was released in Europe, Israel, South and Central America, where it reached platinum status in each territory. Following the release of her second non-U.S. release Fairy Tales, Costa took a four-year break from recording when her father died. She then got back in the business at age 14 with a record for a small German recording label before moving to Los Angeles. In the following years, she moved to Australia to hone her chops. She gigged incessantly, developed her own live show, and started to seriously write songs. Costa landed a deal with Mushroom Records and released Butterfly Rocket, which earned her a nomination for Best New Artist at the Australian Recording Industry Awards. Music exec Dominique Trenier then took Costa under his wing, signing her to his label Cheeba Sound. Trenier hooked her up with album producers Justin Stanley and DJ Mark Ronson, and the three created Everybody Got Their Something--a fierce fusion of rock and soul. Costa wrote or co-wrote all of the songs on the album. Costa also proved she can still tear it up on stage when she recently appeared on the season finale of The Chris Rock Show--her first performance in over three years.