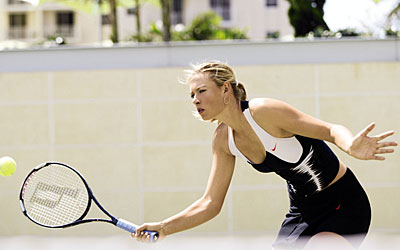 After winning last weekend's Pacific Life Open in Indian Wells, California, Maria Sharapova will step onto the tennis court at the NASDAQ-100 Open tennis tournament in Miami, Florida and debut new custom made Nike apparel that features a unique Dri-FIT sport corset and skirt that are adapted from Nike's fitness dance collection.
After learning of Maria's interest in Nike's fitness dance collection, Nike designers adapted two key pieces for Maria to wear on the tennis court. The Nike Speed Corset is pearl and black and features a state-of-the-art ventilation system in the front and back for breathability to keep Maria cool while playing in Miami's heat. The black Nike Shimmer Mix Skirt is made of moisture-wicking Dri-FIT fabric and features an adjustable roll top waist that allows for a custom fit. Nike's proprietary, tested and re-tested, moisture-wicking technology, Nike Dri-FIT helps sustain body temperature by drawing sweat away from the skin and moving it to the outside of the fabric where it quickly evaporates
Maria, who traditionally has preferred playing in dresses, was so pleased with corset and skirt design that she decided to wear the separates.
"The corset is definitely something you don't see much on the tennis courts, but Nike made it very comfortable to wear and the vents keep me cool," said Maria Sharapova.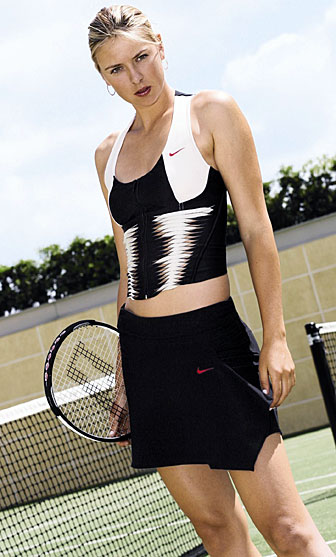 "I've never worn anything like this, but I'm excited about it and since it's Miami you can get away with things being a little edgier."
"Nike designers translated the fitness dance apparel into a corset and skirt that provide the performance features critical for the heat and elite level of play in Miami," said Nike's Mindy Grossman.
Maria's Nike apparel will be available on site at the tournament.