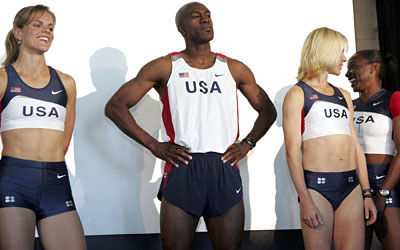 Nike and USA Track and Field unveiled the 2004 federation uniforms at the 2004 U.S. Olympic Team Trials. Many of the sport's top athletes were in attendance to reveal the uniforms that will debut in Athens and be worn during the next four years of competition. The collection, which includes the Nike Swift Suit, Marathon Singlet and Unitards, feature a bold USA identity and the colors of Red, White and Blue.
During the two-year design process, special attention was paid to zoned aerodynamics, strategic seam placement, thermoregulation, and articulated fit. "We believe apparel to be a piece of equipment, not an accessory," said Jordan Wand, Nike Global Director of the Advanced Innovation Team. "Apparel must not only fit optimally so that it doesn't impede the athlete's maximum performance, the design can actually make an athlete faster through advanced materials, aerodynamic considerations and innovative cooling technologies."
The Nike Swift Suit was immortalized in 2000 when Cathy Freeman wore it to gold in Sydney in the 400m. Nike Swift technology has since been applied to other sports such as speed skating, cycling, rowing and swimming. The 2004 Swift Suit for track and field is lighter, more breathable and most importantly, faster. Much of the innovation developed for Nike Swift technology has been used in each piece of the 2004 USA Track and Field uniforms.
The new Marathon Singlet uses Nike seamless technology to minimize seams that might chafe over the course of extended running periods. The Men's Short-Sleeved Unitard features seaming that has been moved to the back of the garment for improved aerodynamics and hems with a patented no-sew finish, in place of seams, that fit snugly against the skin.
Nike designs, markets, and distributes athletic footwear, apparel, equipment, and accessories for a wide variety of sports and fitness activities.