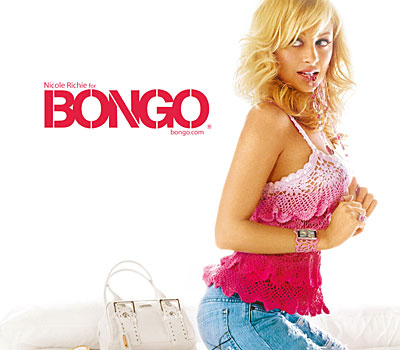 Nicole Richie has been cast as the new Bongo spokesperson. Nicole will appear in the brand's Spring 2005 advertising campaign, which will launch in March issues of fashion, entertainment and lifestyle magazines. This is the actress's first endorsement deal.
Nicole is best known for her hit reality show, The Simple Life. The show is entering its third season on January 26th and co-stars her best friend and Hilton heir, Paris Hilton. Last season, The Simple Life was the number one show for ages 12-24.
Commenting on the campaign, Nicole Richie stated, "Bongo is a fun, young line and I think I am a good person to represent the brand. So when they approached me to appear in the ads I was really excited to do it."
Dari Marder of Candie's stated, "Nicole has a great sense of style that we feel embodies the Bongo customer, so we could not think of a better spokesperson."
The ads feature Bongo Spring 2005 products available in department and specialty stores nationwide. The campaign was shot by celebrity photographer Moshe Brakha and created by Candie's in-house marketing and creative team. Nicole will make public appearances on behalf of the brand.
Candie's licenses the Candie's, Bongo, and Badgley Mischka trademarks on a variety of footwear, apparel, and fashion products.