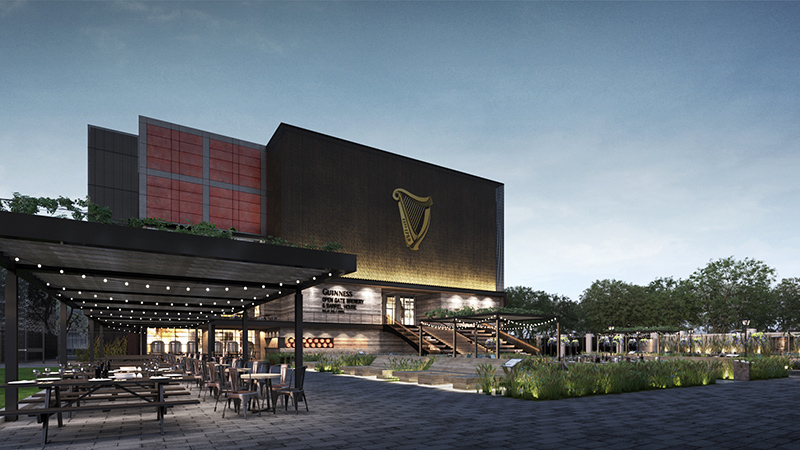 On August 3rd, 2018, a new Guinness brewery Baltimore location opened, its permanent home in America: the Open Gate Brewery & Barrel House.
"In my opinion, the word 'milestone' doesn't do justice to this moment in Guinness history," said Diageo Beer Company USA Chairman and Diageo Global Chief Sales Officer Tom Day. "Since we announced our brewery just outside Baltimore, I've spent a lot of time here and have come to really love the area and the people of Maryland. I can't wait to see this place open and become a part of this vibrant community and special beer culture. I really think we have something great to offer folks, both in terms of beer and a fantastic place to visit and experience."
While Guinness Draught and the other classic stouts will be brewed exclusively in Ireland and imported to the U.S. to be enjoyed responsibly, this brewery is an important step in the evolution of the brand. Led by Brewmaster Peter Wiens and Head Brewer Hollie Stephenson, the Maryland team will take over the production of Guinness Blonde and experiment with new beers influenced by both American and Marylandbrewing tradition.
Guinness Draught and other iconic Guinness stouts will continue to be imported from Ireland. Expect to see new beers, like the popular Midcoast IPA, on tap alongside them.
Visitors to the Open Gate Brewery & Barrel House can expect a world-class Guinness experience, blending local Marylandflavor and Irish hospitality, from the staff to the beers to the décor of the buildings and the food in the brewery's restaurant. The taproom, tours of the 10-barrel brewery, the merchandise shops and the grounds will be open on August 3rd, with the restaurant opening approximately two weeks later. In the meantime hungry visitors will be able to order bar food in the taproom, and there will often be some of Maryland's finest food trucks on site.