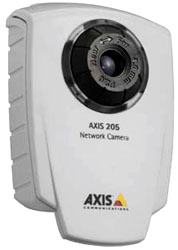 Axis Communications, the global leader in the network video market, launched today the world's smallest, high-performance network camera with a built-in Web server. The AXIS 205 Network Camera provides small businesses and professional home users with high image resolution (640 x 480 pixels) and full frame rate (30 frames per second) at a low price point.
The AXIS 205 is ideal for streaming video for remote monitoring purposes, such as monitoring a property or business or keeping an eye on a vacation home. Unlike Web cameras, the AXIS 205 operates independently of a PC and contains a built-in Web server that allows users to assign each network camera a unique IP address so that live images can be accessed from anywhere in the world via the Internet. It is about the size of a deck of cards (approximately 3.4 x 2 x 1.3 inches), and its PC-independent design provides more flexible placement options as it fits easily into surrounding environments.
"With the launch of the AXIS 205, Axis is filling the growing demand for the functionality and performance of a network camera at the size and price of a Web camera," said Fredrik Nilsson, general manager for Axis Communications. "The AXIS 205 now offers live video from anywhere your network goes, and is specially engineered and priced to fit the needs of small businesses and professional home users. This is a new customer segment for Axis, which is allowing us to open up and capitalize on new global market opportunities."
The AXIS 205 is optimized for indoor use and provides high-quality, Motion-JPEG video at 30 frames per second, even at the highest possible resolution. Users also have the option to record and store images to hard disk using the AXIS Camera Recorder software. In addition, the AXIS 205 offers dual-level password protection to prevent unauthorized users from accessing images or making changes to the camera system. It supports up to 20 simultaneous users.
Axis products and solutions are focused on applications such as security, surveillance, remote monitoring and document management. The products are based on in-house developed chip technology, which is also sold to third parties.