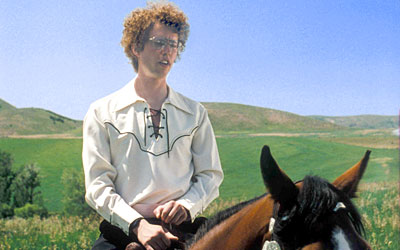 Fox Searchlight, MTV Films and Paramount Pictures attached a five-minute epilogue to the feature film Napoleon Dynamite for its wide expansion. The epilogue offers a peek into the future of Napoleon and his friends.
Shot on June 22 and 23 in Preston, Idaho, the epilogue, directed by Jared Hess from a script he co-wrote with wife Jerusha, was a response to the growing success of their feature debut and the loyal devotion of their fans. Napoleon Dynamite will expand wide to over 350 screens across the country and the epilogue will be attached to each print.
Fox Searchlight's President of Marketing Nancy Utley said of the unprecedented move, "Fans of Napoleon Dynamite nationwide have fallen in love with the film's anti-hero and his quirky friends. We decided to take a page out of the DVD handbook and give them something more. It has been Searchlight's challenge in marketing Napoleon Dynamite to be as unique as the film's loveable characters."
"Napoleon Dynamite fans are extremely devoted," said Fox Searchlight President Peter Rice. "Over 25,000 people are competing to become President of the Napoleon Dynamite Fan Club on our website and over 1,000 fans have seen the film three times or more. We're thrilled with the enthusiastic response the film has received."
Earning more than $4 million since its limited release on June 11, Napoleon Dynamite marks the directorial debut of 24-year-old Jared Hess, who wrote the film with his 23-year-old wife Jerusha Hess, an undergraduate student at Brigham Young University (BYU). A favorite at the 2004 Sundance Film Festival where it premiered, the film also opened the 2004 U.S. Comedy Arts Festival and went on to win that festival's coveted award for Best Feature Film.