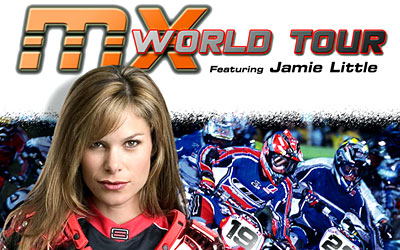 MX World Tour featuring Jamie Little is a motocross racing game features head-to-head competition for up to four players with race commentary and the chance to race against the well-known commentator and racer.
Developed by Impulse Games for Crave, MX World Tour allows players hundreds of combinations in creating customized bikes and riders. In MX World Tour, all of the bikes can be modified with colors, stickers, and performance upgrades to boost horsepower and handling. Players attempt to earn the coveted number one plate, signifying the top of the world rankings.
MX World Tour: Featuring Jamie Little includes:
Motor sports commentatator Jamie Little, racing against players and providing in-race commentary
Customized bikes and riders to match their favorite rider or create a new look
Both indoor and outdoor events
Solid bike physics
A dirt and asphalt event
A custom hole-shot device to achieve faster starts
Over thirty different competitions
Motocross bikes that can be upgraded with increased horsepower and custom handling
Full-featured career mode
Split-screen multiplayer mode with up to four players
Realistic starts
Scheduled for release on April 5, 2005, MX World Tour: Featuring Jamie Little will be available for the PlayStation 2 computer entertainment system and Xbox video game system from Microsoft for $19.99.
Crave Entertainment produces games for Nintendo DS, Game Boy Advance, Nintendo GameCube, PlayStation 2, and Xbox.
Jamie Little is a motor and action sport commentator. In addition to announcing and commentating for ESPN, ABC, NBC, Speed Channel and TNN, Jamie is a racer, competing in both mountain bike and mini-bike races.