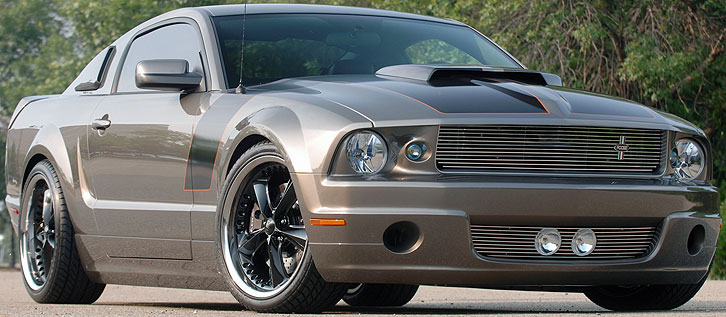 Foose Design and Unique Performance are launching a line of limited edition muscle cars based on the current generation Ford Mustang during Detroit's Woodward Dream Cruise. Named Stallion, the first pre-production custom ponycar will be shown on August 20, 2005.
"Over the past year, Unique Performance and Foose Design have collaborated on several vintage car projects," said Doug Hasty, President and CEO of Unique Performance. "We've taken our relationship to the next level with a special edition of the 2006 Ford Mustang. Stallion combines Chip's cool, avant-garde styling with our muscle car expertise to create the ultimate, limited production street machine."
Award-winning Chip Foose of Foose Design penned the Stallion Mustang's bold styling. Unique Performance, a leader in limited production American muscle cars, will assist in the engineering and development of modifications, as well as manage all marketing activities. Detroit-based Tecstar, a top OEM supplier and development company, will handle the engineering, validation and assembly of the vehicles. Specialty products from Dupont's Hot Hues, Ford Racing, JBA, Baer Brakes, Kenwood and BFGoodrich will be included into every Foose-designed Stallion.
The Stallion is scheduled to be available through select Ford dealers nationwide in early 2006. Production will be capped at only 3000 per year with an MSRP projected to begin at $38,000.
"I have always dreamed of creating a limited edition streetcar," stated Chip Foose. "Ford's Mustang is an extraordinary platform for a custom muscle car. We wanted to stay true to what makes the Mustang special but, to create a distinctive new look, we revised the styling cues to include a custom front grille and hood, new front and rear fascias, added some discreet scoops and lowered the stance. Each car will include custom designed wheels and interior touches. It is the ultimate cruising machine that stands out from the crowd."
Executives with Unique Performance and Foose Design announced a formal agreement to create limited edition performance cars in early 2005. The two companies initially launched a series of super cars based on 1960's era vehicles. This is their first current production vehicle program.
Unique Performance builds the Shelby G.T.500E and G.T.350SR continuation cars based on vintage Ford Mustangs.
The new program began when automotive designer Chip Foose was bombarded with requests to recreate his stunning one-off vehicles.
"Stallion will turn heads on the street and have the muscle to back up its stylish good looks," noted Hasty. "We've stiffened the chassis, uncorked the exhaust, tightened the handling, improved the induction and upgraded the stopping power. Working closely with Ford Racing, we plan to offer even more performance options sometime next year."
Stallion's pre-production specs:
Chip Foose designed body with a modified hood, side molding, revised grille, fascias, custom side marker lights, side C pillar ducts, etc.
Rear aerodynamic spoiler
Custom graphics using Dupont's Hot Hues finishes
Chip Foose designed 20" custom aluminum wheels
20-inch g-Force T/A KDW ultra high performance tires from BFGoodrich
Sequential taillights
Racing inspired front and rear coil springs, front and rear anti-sway bars, billet rear trailing arms and strut tower brace
Baer Brakes 4-piston front brakes with Eradispeed Cross Drilled Rotors (15" front and 14" rear)
JBA high flow catback exhaust with mufflers
High flow air filter
Quaker State synthetic lubricants
Custom leather seats with dash and trim enhancements
Foose Design specializes in illustration, graphics, ideation model making, surfacing, and complete construction of automobiles and automobile-related products.