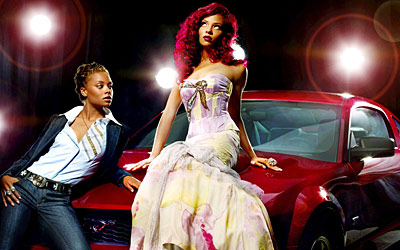 As the celebrated all-new 2005 Ford Mustang begins to arrive in dealer showrooms this fall, Ford Division showcased the car on UPN's reality series America's Next Top Model.
The America's Next Top Model 7th episode product integration is another key part of Ford's all-new divisional marketing campaign, Built for the Road Ahead, which will broaden consumer reach by integrating traditional methods with emerging communication trends. Ford's presence in the fall television lineup reflects the company's collaboration with individual show producers to find meaningful ways to introduce the company's products into a program storyline.
"With the all-new Mustang arriving in showrooms across the country, we have a unique opportunity for potential buyers, especially women and African Americans, to discover this iconic car," said Ford Division President Steve Lyons. "The show provides valuable and relevant visibility for our product."
Judges include supermodel Tyra Banks, the world's first supermodel Janice Dickinson, photographer Nigel Barker and stylist Nole Marin, who will conduct the regular evaluations to narrow the field from week-to-week. The winner will have the opportunity to be managed by Ford Models. She will also receive a contract with Cover Girl. Finally, the winner will appear in a fashion spread in Elle magazine.
A 2005 Ford Mustang GT holds the spotlight during the 7th episode of the season. The car is featured in a studio advertising photo shoot that shows the Mustang standing out in various lifestyle situations. Ford Division 2005 products will also serve as transport vehicles for the models at various televised activities during the season.
The show is UPN's highest rated program in the network's history among women 18-49. The current cycle of the show ranks among the top 10 programs on television this year among African American adults 18-49, and is the highest rated reality show on television among African American viewers.
These demographic ratings are relevant for Mustang because the brand resonates strongly with a large demographic that crave the car for its power, performance, and affordability.
The 2005 Ford Mustang GT features a 4.6-liter all-aluminum V-8 engine that cranks out 300 horsepower, bold classic styling from defining Mustang's of the '60s and a state-of-the-art chassis and suspension -- all for under $25,000.
The final component of the product integration is the 2005 Mustang Top Model Internet Sweepstakes where show viewers will compete to win their very own 2005 Ford Mustang GT.