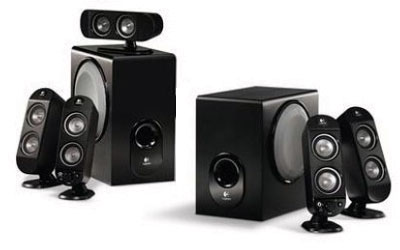 Logitech X530 and X230 speakers provide gamers, digital music lovers, movie buffs and anyone who uses a PC with breakthrough audio technology and stylish design at extremely affordable prices.
The Logitech X530 and X230 speakers are the first speakers to include Frequency Directed Dual Drivers technology. The technology helps speaker systems produce richer sounds by having two -- or dual -- drivers in each satellite speaker. It also overcomes high-frequency overlap that leads to uneven sound -- a major barrier to dual driver speakers in the past. The result is uniform, intense sound from any place in the room.
"Frequency Directed Dual Drivers is a state-of-the-art audio technology that allows us to deliver unparalleled performance in mid-priced speakers," said Ray Weikel, director of product marketing for Logitech's Audio Business Unit. "After extensive testing, we believe that these new audio systems change the landscape in this price range -- there is a definite, easily discernible performance difference between speakers with Frequency Directed Dual Drivers and those without."
The Logitech X530 and Logitech X230 speakers feature a sleek, high-gloss design which fits into either home or office decor. The polished black surface of the satellites sets off contrasting chrome dual drivers, which are protected by transparent cloth grilles. The subwoofer is designed to match the satellites, and includes a kick-proof metal grill for protection.
In the past, the quality of satellite speakers with multiple drivers has been compromised by a condition called lobing. Lobing occurs when high-frequency sound is emitted from more than one source. At different points in the room, lobing can cause either overly saturated sound or voids, where the sound cancels itself out. Logitech's Frequency Directed Dual Drivers technology allows both drivers to contribute rich mid-tones, but avoids lobing by restricting high-frequency interference. The resulting sound is uniform at every point in a room -- without any irregularities or hot spots.
The Logitech X530 speakers, available in the U.S. this month for a suggested retail price of $79.95, are a 5.1 surround sound system geared for gaming and playing DVDs on PCs, or game consoles and DVD players using an adapter available through www.logitech.com. It includes a subwoofer with a dynamic, real-time equalizer that maximizes punch while minimizing distortion. With a dedicated center channel and acoustically matched front and rear satellites, the Logitech X530 system produces finely balanced surround sound. The combination of five satellites plus subwoofer delivers 70 watts of power using the RMS (Root Mean Square) measuring system.
The Logitech X230 speakers, available in the U.S. this month for a suggested retail price of $49.95, feature two dual-driver satellites and a subwoofer with a dynamic bass equalizer. With excellent 2.1-system sound, the Logitech X230 system is targeted at digital music enthusiasts and general PC users looking to enhance the sound and style of their computer system. The system can plug directly into portable music players for big, room-filling sound. The Logitech X230 system also works with stereo TVs or traditional stereo components using an adapter available at www.logitech.com. Its 32 watts of RMS power, rich dual-driver sound and thumping base make it a compelling and affordable upgrade from the speakers that come with most computers.
Logitech designs, manufactures and markets personal digital peripherals.