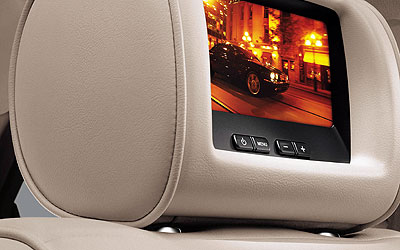 Jaguar has selected Grammer to supply headrests with integrated video displays for their flagship Jaguar XJ.
All versions of this model may be optionally equipped with a multimedia system for passengers seated in the rear of the vehicle.
The video unit consists of two high-resolution, 6.5-inch (diagonal) LCD monitors integrated into the rear of the front seat headrests.
"This location is much more convenient for back seat passengers than overhead monitors," said Juergen Huertgen, Grammer's vice president of sales and marketing for the Americas. "Headrest-mounted monitors at approximately eye level are more ergonomically favorable than overhead displays, which require passengers to look up. This can be wearisome, especially for children."
The two headrest monitors may be operated independently from each other, which can prevent disputes over the preferred program. Brightness and color contrast are individually adjustable.
The multimedia control panel allows playback of videos, CDs and DVDs. Video games and laptops also can be connected. In vehicles with a navigation system which includes a TV function, it is also possible to watch television programs. Sound is transmitted via headphones, which are linked to the Jaguar's audio system.
Grammer also provides similar headrest-mounted multimedia video systems for other vehicle models.