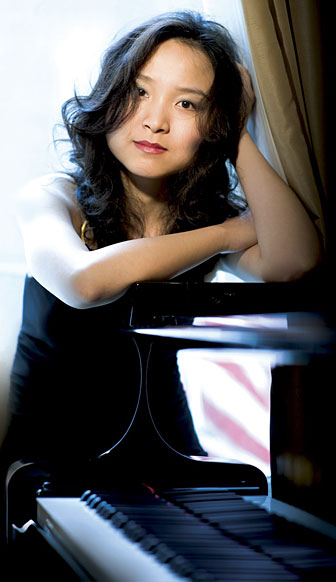 Acclaimed pianist Jie Chen will perform a one-night only solo engagement at Lincoln Center's Alice Tully Hall on Friday, November 18, 2005 at 8:00 p.m. Ms. Chen's program will include Bach-Petri's Sheep May Safely Graze, Schubert's Sonata in A Major, D. 959, Mozart's 12 Variations on a Minuet by Fischer, K. 179 and Albeniz' Evocacion, Triana.
A recent Washington Post review of Chen's Kennedy Center debut called her a "prodigiously talented musician" whose performances of Schubert's Sonata in A and Schumann's Sonata No. 2 were "virtually note perfect and scrupulously measured."
Ms. Chen's talent flourished in the most unlikely of circumstances. Having grown up in Guang Dong, China, she taught herself to play piano at the age of four by listening to audio recordings. At the age of twelve, she moved to the United States for formal study at the Curtis Music Institute. Seven years later, Chen was awarded the grand prize at the second International Piano e-Competition.
She made her orchestral debut with the Philadelphia Orchestra at age fifteen and has collaborated with the Milwaukee Chamber Orchestra, the Pottstown Symphony Orchestra, the Minnesota Orchestra, Italy's Sanremo Sifonica Orchestra, the Israel Philharmonic Orchestra, and the Madrid Symphony Orchestra.
This has been a successful year for Ms. Chen. She won first prize in the Washington International Piano Competition, fourth prize in the Arthur Rubinstein International Piano Master Competition, the Jury Discretionary Award in the Van Cliburn International Piano Competition, and third prize in the Santander Paloma O'Shea International Piano Competition.
The November 18th performance, sponsored by Yamaha, is part of Chen's prize for taking top honors at the International Piano-e-Competition in 2004, in which contestants performed on a Yamaha Disklavier reproducing piano and their performances were captured digitally as computer data and sent via the Internet to an identical Disklavier in Japan. There, note-for-note, performances were recreated and synchronized with high-quality video for e-judging by a segment of the distinguished jury.
Alice Tully Hall is located at Lincoln Center at 65th Street and Broadway in New York City.