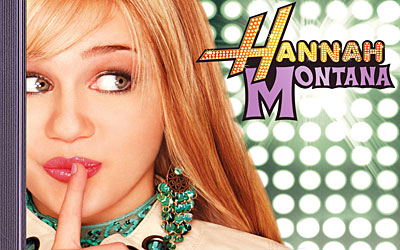 The soundtrack to Disney Channel series Hannah Montana will go on sale Tuesday, October 24 for $18.98. The Hannah Montana Soundtrack features music from the number one series and a music DVD with five concert videos. An episodic DVD also will be released on that day.
Wal-Mart will present an exclusive Miley Cyrus as Hannah Montana In Concert special on its in-store television network on October 24 (Tuesday) at 4:00 p.m. and October 28 (Saturday) at 7:00 p.m. The special includes behind-the-scenes footage of tween star Miley Cyrus. Beginning October 31, 2006, viewers can stream the concert special on the company's website.
The soundtrack features eight songs performed by Miley Cyrus as Hannah Montana, including the Hannah Montana theme song The Best of Both Worlds, Who Said, Just Like You, Pumpin' Up the Party, If We Were a Movie, I Got Nerve, The Other Side of Me and This Is the Life. Also featured on the Hannah Montana Soundtrack is the duet I Learned from You, performed by Miley and her real-life and on-screen father, multi-platinum-selling country music star Billy Ray Cyrus.
Additional tracks from and inspired by the series include Pop Princess performed by The Click Five, She's No You performed by Hollywood Records recording artist Jesse McCartney, Find Yourself in You performed by Buena Vista/Hollywood Records recording artist Everlife and Shining Star performed by B5. The music DVD features five Hannah Montana concert videos -- Best of Both Worlds, Who Said, Just Like You, Pumpin' Up the Party and The Other Side of Me.
In the Disney Channel series, 14-year-old Miley Stewart has a secret identity, but she's no superhero, she's the famous teen pop sensation Hannah Montana. In order to maintain her normal family life and friendships, Miley goes to great lengths to make sure that nobody discovers that underneath her hair and makeup, Hannah Montana is really just the girl-next-door.
Hannah Montana is the number one rated series on basic cable TV among Tweens 9-14 and number two among kids 6-11. For third quarter 2006, Hannah Montana is the top rated series on broadcast and basic cable TV among tweens 9-14 and tied for first in the 6-11 age group.