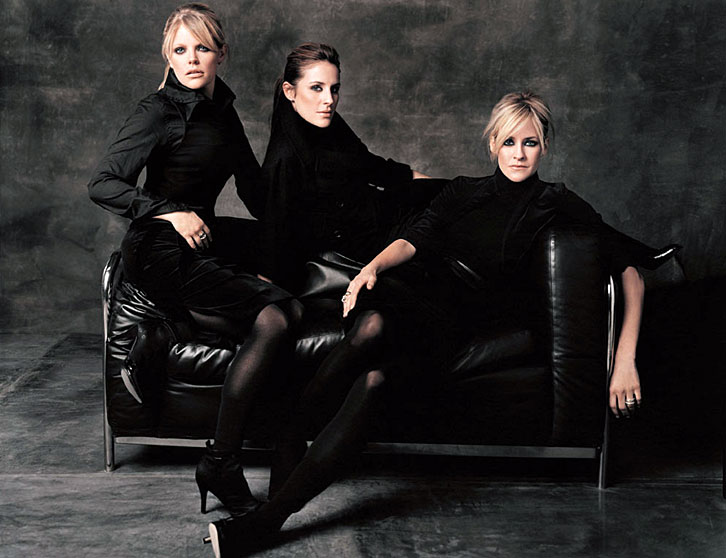 Over a decade, the Dixie Chicks have grown from a band into a phenomenon. Now more than ever, the eyes of the world are on them, and with Taking the Long Way, they surpass pressures and expectations. The nine time Grammy-Award winning Sony Recording artists will release their fourth album on May 23, 2006.
With Taking the Long Way, the Dixie Chicks are putting themselves out there like never before. For the first time, every one of the disc's fourteen songs are co-written by the Chicks themselves, exploring themes both deeply private and resoundingly political. Collaborating with legendary producer Rick Rubin, the band has pushed themselves to new heights as writers and performers.
"Everything felt more personal this time," says Natalie Maines. "I go back to songs we've done in the past and there's just more maturity, depth, intelligence on these. They just feel more grown-up."
Inspired by such classic rock artists as the Eagles, Tom Petty and the Heartbreakers, and the Mamas and the Papas, Taking the Long Way adds a sweeping, Southern California vibe to the Chicks' down-home intimacy. That ambition is matched with lyrics addressing everything from small-town narrow-mindedness to the psychology of celebrity.
Not just big for a country band or big for a big female band, the Dixie Chicks are a multi-platinum selling act in North America, Europe and Australia as well as one of a mere handful of acts with multiple albums achieving diamond status (meaning sales over 10 million copies) -- both Wide Open Spaces (1998) and Fly (1999) hit that stratospheric landmark -- and have won nine Grammy awards.
"This album was total therapy," says Natalie Maines. "I'm way more at peace now. Writing these songs and saying everything we had to say makes it possible to move on."