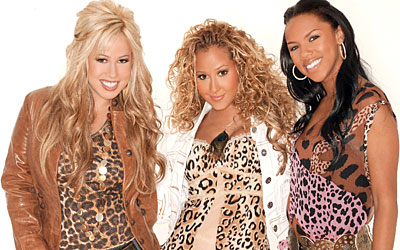 Walt Disney Records recording group The Cheetah Girls will go on tour this winter. The tour comes in support of the girl's new holiday CD, The Cheetah Girls: Cheetahlicious Christmas. The CD features the multi-platinum girl group's amazing vocal harmonies on new and favorite Christmas classics. It's the follow-up to their debut Disney Channel Original Movie, The Cheetah Girls, and its multi-platinum soundtrack.
The Cheetah Girls - Adrienne Bailon, Kiely Williams, and Sabrina Bryan - are high in the charts with their single release of Cinderella and their rendition of I Won't Say I'm in Love from Disney's Hercules for the top-selling Disneymania three-CD and concert DVD. Both songs remain on Radio Disney's Top 30 Countdown. In addition to touring, the trio is scheduled to appear in Macy's Thanksgiving and ABC Walt Disney World Christmas parades.
They're also enjoying the simultaneous release of their latest soundtrack contribution: a version of the Ray Charles classic Shake a Tail Feather recorded for the Walt Disney Pictures computer animated film Chicken Little. Next, The Cheetah Girls prepare for the film sequel The Cheetah Girls 2, slated to premiere next summer following the release of a new The Cheetah Girls studio album and North American concert tour.
Sisters Aly and AJ will take their brand of melodic rock on the road this winter with The Cheetah Girls. On their Hollywood Records debut CD, Into the Rush, the multi-talented duo prove they're close in spirit and in heart. Aly and AJ wrote all but two tracks on the album. Since their album was released in August, Aly and AJ have sold over a quarter million units, and have had three number one singles on Radio Disney. The Disney Channel recently aired Aly and AJ; In Concert during their new season premiere week and will re-air the concert special October 21. The girls are also media darlings with teen magazine covers.