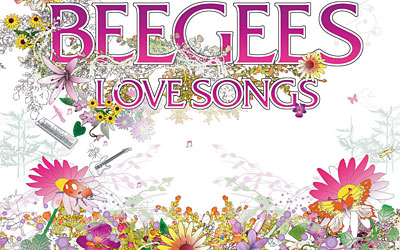 The Bee Gees have written some of pop music's greatest love songs--songs covered by innumerable artists throughout the years. But now, for the first time, The Bee Gees' original recordings of those love songs have been brought together on one album. Love Songs features eighteen hits spanning 1967 to 2001.
Among the album's highlights is their original recording of Don't Throw It All Away, a 1978 solo hit for Andy Gibb that the group recorded for 1979's Greatest compilation. The collection's sole solo outing is Juliet from Robin Gibb's 1983 LP How Old Are You?
The first truly timeless love song from the Brothers Gibb--Maurice, Robin and Barry--appeared in 1967 with To Love Somebody. Both that song and the following year's Words were Top 20. First Of May cracked the Top 40 to end the 1960s.
The Bee Gees then became the biggest pop group on the planet. 1971 brought Lonely Days, their first U.S. number one and first U.S. gold record, as well as the gold number one How Can You Mend A Broken Heart. The trio's contributions to 1977's Saturday Night Fever helped make history when that soundtrack became music's top-selling album, the biggest selling soundtrack ever.
Its gold number one Grammy-winning How Deep Is Your Love ranked in the Top 10 for 17 straight weeks, setting a Billboard record. More Than A Woman was also heard on that landmark album.
Emotion, a 1978 hit for Samantha Sang, was performed by The Bees Gees for 1991's retrospective-plus The Record before Destiny's Child took it Top 10 in 2001. In 1979, Spirits Having Flown spun off the platinum number one Too Much Heaven. Heartbreaker was first heard sung by Dionne Warwick in 1982 but was later recorded by The Bee Gees for The Record as was Islands In The Stream, which in 1983 went number one Country/number one pop for Kenny Rogers and Dolly Parton, is included as a live version.
Culled from The Bee Gees' four final studio albums are Secret Love, the Adult Contemporary Top 40 hit For Whom The Bell Tolls, Closer Than Close and I Could Not Love You More, and Wedding Day.
The Bee Gees were inducted into the Rock and Roll Hall of Fame in 1997 and have earned sixteen Grammy nominations and won seven Grammy Awards, including the prestigious Grammy Legend Award in 2003. Today, The Bee Gees' legacy continues to grow as each new generation discovers their music.